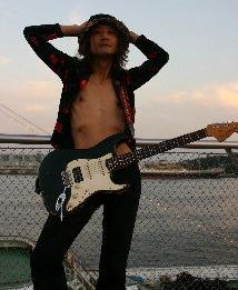 Yosuke Miyake was born in Ohtsu City, Shiga, Japan on Dec. 19, 1966. He started playing guitar and writing songs at the age of 16. At 19, he joined "Terra Rosa" band who he says play Euro Style Heavy Metal, similar to Rainbow and Deep Purple. He recorded an album "Endless Basis" and toured Japan. After leaving the band, he continued to work on many projects and create what he calls "Self Instrumental Music."
"I have had endorsements with Ibanez Guitar, Dimarzio P.U, Performance Guitar, Sobbat Retronics (whom I work with now)," says Yosuke. "I also worked at GIT Tokyo as a lecturer for ten years. It is a music school." I currently am with the band "ITAKRAAZ" who has an odd beautiful jazz rock sound and I am planning to make "My Own Music" album. I am looking for a label to achieve this."
Skope: Who were your main influences in music?
First … Jeff Beck's " There and Back " Album, Michael Schenker Group, Deep Purple, The Police, Judas Priest, Dire Straites, Scorpions (Tokyo Tapes), some of Ulrich Roth's Stuff, Gary Moore, Thin Lizzy, Journey, Focus, King Crimson, Yes, Allan Holdsworth, Steve Vai's Flex-Able, Robin Trower, Neal Schon, Miles Davis, Oh! Mike Landau-He is Big! Classic Music (Especially, Vivaldi…) and Reibun Ohtani. He is a Japanese legendary Guitarist and now he is a good friend of mine.
Always My Favorite Artist is " The Man… Jimi Hendrix "
Skope: Do you tour internationally?
No … I wish that I could go all over the world.
Skope: Do you have a CD?
Yes. But, the CD is 21 years old. It was " Terra Rosa/The Endless Basis " Album.
My Own Style Music Album…is being planning now.
Skope: What do you want listeners to get from your music?
Unnn…First..sounds then emotion. If it is possible to feel it like a picture, it is glad.
Skope: Any plans to come to the US?
Of course, I want to achieve it as soon as possible.
Skope: Any other interests?
" CARS " (Ferrari, Alfa Romeo .. Especially Italian), Historical, old temples and buildings and Art.
You can get a sampling of Yosuke Miyakes music at www.myspace.com/yosukemiyake