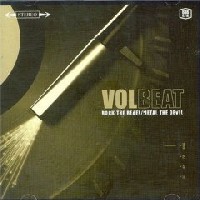 This group has the necessary elements exhibited by other successful metal bands.   Sometimes they remind you of Sabbath, and other times the more progressive speed rock bass drum pedal groups.   Denmark's answer to metal mania has arrived with a very interesting release.   The unique blend of early rock and rockabilly mixed with some punk influence and a metal overtone is unique to say the least.   It's a bit like NIN and Sabbath meet Brian Setzer, Johnny Cash, The Ramones and The Reverend Horton Heat.  
The Garden's Tale is a good track, starting off slow and melodic, and then running full out.   Sad Man's Tongue starts off in a rockabilly style like Folsom Prison before it hits the gas pedal.   A very unique and cool track.   Singer/guitarist Michael Poulson has a booming on track voice capable of just about any genre of music.   The ability to combine good melodies with metal is actually a great accomplishment.   Parts of what the band does in combining melodies, riffs, and song structure, parallels things that worked for groups like Queen, Metallica, Dio, Iron Maiden, etc.   Guitarist Thomas Bredahl has the chops for rock, country, or metal.   He would have been at home playing in the band Boy Howdy.  
If you're a metal maniac, or a rocker with an edge, you will find this offering interesting.   There are various videos and live versions of them posted on You Tube.  
Reviewed By RME
[Rating: 4/5]