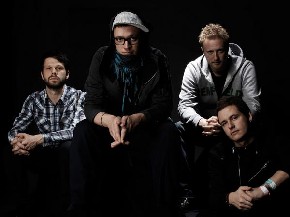 Denmark's hottest export since LEGO, the highly critically acclaimed The Fashion are set to do their first North American tour when they open up for Alkaline Trio starting June 13 in Tulsa, OK.
The band has been building a steady critical buzz of late with Rolling Stone's David Fricke raving, "There's something hoppin' in the state of Denmark; the high velocity and New Wave-guitar sunshine of this Copenhagen band." The band warrants comparisons to dance/new wave bands like the Rapture, LCD Soundsystem and even a little Beastie Boys, and are praised in the current issue of Rolling Stone in its "Smoking Section."
The leaders of an underground music scene in Svendborg, Denmark, The Fashion are fronted by lead singer Jakob Printlau who is a top notch visual artist and directs the band's video and designs albums and merchandise. Their video for "Solo Impala (Take The Money and Run) debuted on MTVu this winter and made its US film premiere at SXSW.   The band also took the stage at SXSW at the Fader party and wowed a packed house with their highly danceable post punk new wave.
The following are the dates with Alkaline Trio. More dates to be announced soon:
6/13/2008                   Tulsa, OK                                                         The Otherside
6/14/2008                   Little Rock, AR                                         The Village        
6/15/2008                   Birmingham, AL                                       Matthew's Bar & Grill              
6/17/2008                   Jacksonville, FL                                         Freebird Live              
6/18/2008                   Columbia, SC                                               Headliners            
6/19/2008                   Richmond, VA                                         The National
6/20/2008                   Allentown, PA                                         Crocodile Rock Café              
6/21/2008                   New Haven, CT                                       Toad's Place
6/24/2008                   Lancaster PA                                             Chameleon              
6/26/2008                   Pittsburgh, PA                                             Club Zoo            
6/27/2008                   Grand Rapids, MI                                   Intersection      
7/8/2008                       Pontiac, MI                                                     Clutch Cargo's            
7/9/2008                       Chicago, IL                                                     House of Blues              
7/10/2008                   Cleveland, OH                                           House of Blues              
7/11/2008                   Baltimore, MD                                         Rams Head Live
7/12/2008                   New York, NY                                         Fillmore NY at Irving Plaza            
7/13/2008                   Providence, RI                                         Lupo's
7/15/2008                   Philadelphia, PA                                       The Fillmore at the TLA            
7/16/2008                   Norfolk, VA                                                   Norva            
7/18/2008                   Atlanta, GA                                                   Center Stage              
7/19/2008                   Orlando, FL                                                   House of Blues              
7/21/2008                   Austin, TX                                                       La Zona Rosa                
7/22/2008                   Dallas, TX                                                       House of Blues              
7/25/2008                   Las Vegas, NV                                         House of Blues              
7/26/2008                   Los Angeles, CA                                     House of Blues              
7/27/2008                   San Diego, CA                                         SOMA            
7/29/2008                   Portland, OR                                                 Roseland Theater              
7/30/2008                   Seattle, WA                                                   El Corazón          
8/1/2008                       Salt Lake City, UT                               In The Venue              
8/2/2008                       Denver, CO                                                   Cervantes  
8/3/2008                       Lawrence, KS                                             The Granada