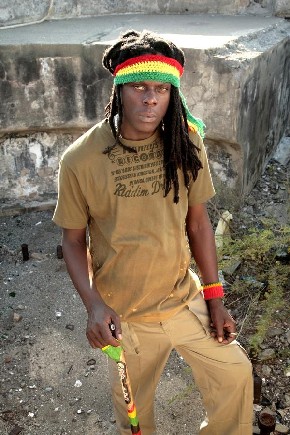 Culture reggae star Richie Spice is heading into the summer on a high note as he sees the release of his newest catalog of hits, Gideon Boot. The VP Records release hits store shelves today and plans are in the works for a media tour in early June.
"This album is to let the people know the realities of life, of what's taking place in the world right now," reveals Spice. "We have to stand up for the youths, and we have to share with them what we can right now so we can move over and let them take over."
"Anno Me Dat"
Richie Spice has been consistent with putting culture reggae on the charts with his buttery baritone, addressing social issues and also blending romantic ballads to keep his female fan base satisfied.
Recently topping the reggae charts in Jamaica with "Anno Me Dat," "Di Plane Land" and "Wrap Up A Draw," Spice has been busy promoting his new singles and upcoming album both at home and abroad.   He recently shot the video for "Di Plane Land," a more serious video with a documentary feel that portrays an in-depth look at the plight Caribbean travelers face when going through immigration, while journeying to the States.
Like the video, Spice has always shunned the hype and instead stays true to the culture genre by weighing-in on conscious topics close to the hearts of his listeners, a formula that has earned him lifelong fans over the past few years. In fact, Gideon Boot has been in production for almost five years now. The majority of the album is produced by musical mastermind Bobby Digital, with added tracks from producers Flava (No Doubt Records) and Arif Cooper (Fresh Ear Productions).
Gideon Boot is now available for purchase in stores and online.
"The Plane Land"
[myspace 33361169 nolink]