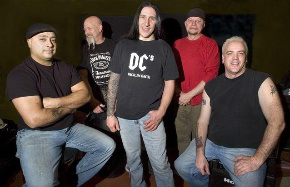 The Rob Carlton band is putting finishing touches on their first CD.   The release date is set for Aug 1 2008.   "It's hard to find a band that can take the music of the past and bring it up to date with a sound that will inspire a new generation.   I believe we have found a sound that does this", Rob Carlton.
Rob was born in Port Jefferson, Long Island, New York.     He says, "I started playing guitar at the age of 12 when my mom bought me a red Kay acoustic guitar.   I played that guitar until my fingers would bleed.   My dad used to rent rooms and it so happened he would rent to guitar players.   I learned a lot of guitar licks from the many players who would end up staying there.   The band met when I moved to PA and was looking for the best musicians I could find.     Ruben introduced me to Freddy and Scott who in turn hooked me up with Donovan, who was playing in a lot of clubs.   We just hit it off.   We practice as a band and now have become friends thru it all.   Lets face it, that helps when you are on the road!"
The vocals by Donovan O'Brien are reminiscent of a young Ozzy, but with a today's rock sound.   The drums have a jazz flavor with intense beats by Ruben Ariola.   Bass guitar is handled by Scott Valintine and reminds me of a Geddy Lee and the Guitars are what this band is all about.   Freddy Wales classic rock sound works perfectly with the Hendrix , Robin Trower inspired guitarist Rob Carlton blending hook after hook.
Bill Lordan, former drummer with Robin Trower says, " Robs guitar playing is solid, straight ahead rock with a bit of Trower in his guitar tone. His songs remind me of the band "Boston" and the Canadian band "Rush".
Rob has worked with Joe Bouchard of Blue Oyster Cult who produced Rob in his band of the past, Empyre.     Rob has opened and toured with national acts and has major guitar endorsements with GHS Strings, Morley Effects and Rocktron Amps.   He has also done ads in National publications with Conklin Guitars and GHS Strings and appeared in Guitar World,   20th Century Guitar, Circus and more, as well as on the worlds stage Kerrang in England and Burrn in Japan.   Most recently Rob was in the March issue of Guitar Player Magazine.
SKOPE: Who were your major influences?
My major influences have to be Robin Trower (Bridge of Sighs is my favorite guitar CD) and Jimi Hendrix (my favorite single has to be All Along The Watchtower).   I tend to lean towards a heavy style although I love acoustic guitar.   I'm using a Taylor 12 string on my new CD.   You can hear previews of 3 songs ready to fly at the myspace addresses below.     Marshall amps and Fender guitars have been a big influence as well in shaping my sound.
SKOPE: What do you want people to get from your music:
I know its hard to get something new from guitar because so much has been done in the past but, I hope my music and the bands music hits people in the heart and tells them something that makes you think everyday.   It's a hard life but look at what you have and the free will to make the right choices to make this a better world.
SKOPE: Are there any tour plans and tell me about the new CD?
Yes, we hope to play some high profile gigs this year and tour sometime in 2008. The new CD is a breath of fresh air as my singer Donovan put it, "It takes the classic rock sound and brings together the new sound really well".   I really believe the new CD has something new to offer in the rock world in 2008.
SKOPE: What do you want to be doing 5 years from now?
In 5 years I hope to be touring and recording new music.   I guess I'll be playing guitar in some rocking chair, lol, guitar seems to be in my blood.
www.myspace.com/robcarltonbandrocks