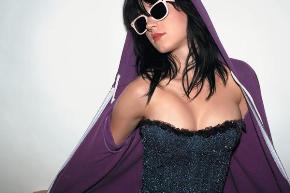 Katy Perry, dubbed "internet darling" by the Associated Press after her breakout performances at SXSW in March, will perform on this summer's Vans Warped Tour Hurley Stage for its entire coast-to-coast run, from June 20th to August 17th, 2008.
The 23-year-old songstress will join the traveling rock circus three days after her debut album, One of the Boys, is released by Capitol Records on June 17th.
Katy was one of five performers chosen by Warped Tour to play the official pre-party press conference in Los Angeles in April.   "Warped is going to be grueling and hot, but I'm ready to survive it – even without showers," Katy says. "Gwen Stefani did the tour back in 2000 with No Doubt and she looked fabulous hopping around on stage in her little polka-dotted dresses.   I'm so channeling that."
"Ur So Gay"
[youtube zluCpm93vfg nolink]
One of the Boys – a witty, pop-rock gem that showcases Katy's sharp, candid lyrics, big voice, and feisty, girl-power swagger, as well as her appealing vulnerability – is the full-length follow-up to her debut digital EP, Ur So Gay (available on iTunes since last November), which has already earned the Santa Barbara, CA, native a legion of devoted fans.   Those fans include the Queen of Pop herself, Madonna, who recently gave Katy shout-outs on two morning radio shows calling "Ur So Gay" her "favorite song."   She first spoke about it on the Phoenix, AZ KZZP-KRQQ John Jay and Rich Show where she prompted them to "check it out on iTunes."   Then on LA's KIIS-FM, Madonna called the song "hilarious" and told Ryan Seacrest he "had to hear it".   Katy performed "Ur So Gay" – a kiss-off to an ex-boyfriend that Billboard has called "zeitgeist-capturing" – on Last Call with Carson Daly on April 8th. The clever low dough video for the song had one million views within a week of appearing on MySpace.
Other tracks from One of the Boys have been gaining attention as well. The first single, "I Kissed A Girl," has been put in power rotation at New York's influential Z100. The reaction from listeners was so strong that the single was made available for purchase on iTunes on April 29th, a week before its intended release and ranked #24 on the Pop Singles chart within its first week.   Various other Katy tracks have been heard several times on MTV's superhot series The Hills, and "Fingerprints" can be heard in the hit comedy film Baby Mama starring Tina Fey.   Katy has also been tapped for Yahoo!'s 'Who's Next Critical Eye', MSN's 'Ones to Watch', AOL's 'About to Pop' and Clear Channel's 'NEW! Featured Artist' for June.
Katy just wrapped her video for "I Kissed A Girl" –   shot by Kinga Burza (Kate Nash, The Thrills) – and it will premiere on MySpace on May 21st, less than one month from her album release and before hitting the road all summer.   Warped Tour dates are below. Please visit her official website http://www.katyperry.com/ or MySpace page http://www.myspace.com.katyperry/ for all the details.
Katy Perry on the 2008 Vans Warped Tour Hurley Stage:
6/20       Pomona, CA, Fairplex Park
6/21       San Francisco, CA, Pier 30/32
6/22       Ventura, CA, Seaside Park
6/25       Phoenix, AZ, Cricket Wireless Pavilion
6/26       Las Cruces, NM, New Mexico State University – Intramural Field
6/28       Salt Lake City, UT, Utah State Fair
6/29       Denver, CO, Invesco Field at Mile High
7/01       Maryland Heights, MO, Verizon Wireless Amphitheater St. Louis
7/02       Bonner Springs, KS, Verizon Wireless Amphitheater
7/03       Dallas, TX, Superpages.com Center
7/05       Selma, TX, Verizon Wireless Amphitheater
7/06       Houston, TX, Sam Houston Race Park
7/09       Atlanta, GA, Lakewood Exhibition Center
7/10       Orlando, FL Central Florida Fairgrounds
7/11       St. Petersburg, FL, Vinoy Park
7/12       Miami, FL, Bicentennial Park
7/13       Elkton, FL, St. Johns County Fairgrounds
7/14       Charlotte, NC, Verizon Wireless Amphitheater
7/15       Virginia Beach, VA, Verizon Wireless Amphitheater
7/16       Columbia, MD, Merriweather Post Pavilion
7/17       Cleveland, OH, Tower Amphitheatre
7/18       Detroit, MI, Comerica Park
7/19       Toronto, ON, Downsview Park Allen Road
7/20       Montreal, QC, Park Jean Drapeau
7/23       Mansfield, MA, Tweeter Center for the Performing Arts
7/24       Darien Center, NY, Darien Lake P.A.C.
7/25       Camden, NJ, Susquehanna Bank Center
7/26       Uniondale, NY, Nassau Coliseum
7/27       Scranton, PA, Toyota Pavilion
7/28       Englishtown, NJ, Raceway Park
7/29       Pittsburgh, PA, Post Gazette Pavilion at Star Lake
7/30       Cincinnati, OH, Riverbend Amphitheatre
7/31       Noblesville, IN, Verizon Wireless Amphitheatre
8/01       Milwaukee, WI, Marcus Amphitheatre
8/02       Tinley Park, IL, First Midwest Bank Amphitheatre
8/03       Shakopee, MN, Canterbury Park
8/05       Saskatoon, SK, Credit Union Centre
8/06       Calgary, AB, Race City Speedway
8/08       Nampa, ID, Idaho Center Amphitheatre
8/09       George, WA, Gorge Amphitheatre
8/10       St. Helens, OR, Columbia Meadows
8/13       Fresno, CA, Save Mart Center
8/14       Chula Vista, CA, Cricket Wireless Amphitheatre
8/15       Mountain View, CA, Shoreline Amphitheatre
8/16       Marysville, CA, Sleep Train Amphitheatre
8/17       Carson, CA, The Home Depot Center
Photo Credit: Michael Elins