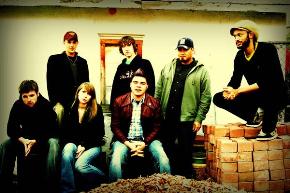 Universal Republic Records' newest hip hop entry Flobots (their debut album Fight With Tools hits streets on May 20) loom as the most compelling hip hop collaborative to sign with a major label in 2008.  
 A roaring 6 piece collective from Denver, CO, the effusive group blends searing songs of social justice with a playful disdain for anything status quo, flipping symphonic bursts over bass-rattled cadences one minute, and layering Seuss-like verses across a crackling rhythm section the next.  
Oh…and they're packing a viola.
 
Righteous rhymes seem to magically ignite from the tongues of hyperkinetic Emcees Brer Rabbit and Jonny 5, reminding one of both an unclenched Eminem and reborn Red Hot Chili Peppers, among other breakthrough artists who came correct by laying down their own trailblazing iconography.   A 360 model (before the term was ever hatched) of self-sustaining, mind bending autonomy, the group rallies their audience by practicing the progressive value system they flaunt in song and story, mining a catch-all website ('Denver: where the water boils faster' —crows one alert) that even plugs fans into the Flobots own nonprofit destination, flobots.org.  
 
Frontier-bound whether preparing the way with the pounce and pomp of "Mayday," or tricking us with the quick-witted daydream of "Handlebars," (musing happy-go-lucky in the first half of the catchy hit, and breaking off into a scathing primer of dread in the song's finale — and what about that trippy horn ) the group first scored thanks to their October 2007 indie release..    
 
Formed as a cohesive alternative organism in 2005, the Flobots 'good-fight' mythology can be traced via   Denver's underground vines and creative community of the late '90s when various members enlivened each others' gigs and creative events, setting the charge that would eventually power up the band's contagious and rollicking rock/rap pedigree.   Their rousing live show, seasoned by classically trained viola player Mackenzie Robert's innovative playing, sparked an impressive undertow of across-the-board support (including both coasts and off-the-grid territories such as Nebraska and Utah) as the group honed its glowing activist edge with a refreshingly positive message and bristling musicianship.  
 
Universal Republic is set to distribute the raw and rapturous album Fight With Tools on May 20.   The prescient "Handlebars," currently holding down a coveted 'Top request' slot at several key radio stations, has placed Flobots among the most buzzed-about newcomers in rock and rap circles.   "'Handlebars' was written in the same way the group kind of blossomed," says Jonny 5.   "I had a friend a few years ago who asked me if I ever tried to ride my bike with no handlebars.   I hadn't, so I tried it.   Got to thinking about all the other things I could do — we could do. The song came so fast to me I actually called my mom's answering machine to record the lyrics and make sure I got it all down.   Of course it's also about how even our best intentions are laden with some sort of opposite. We like to think that Flobots are about directing that positive energy into real change."
 
"Resist.   Refuse.   Inform. Create. Direct," flows one signature evocation on the song, "We Are Winning" Might be they are on to something.