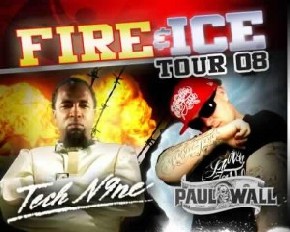 Last night, May 8, 2008, was such a good night that I am feeling it hard this morning. That is right, Stoli headed to yet another hot show.

More…It was off to Worcester for the Fire and Ice Tour. The show was at the Palladium in downtown Worcester, MA. This tour has a full bill with Lewn, Ill Bill, Paul Wall, and the headliner Tech N9ne. The host of the night was the very outspoken Scenario. Scenario told the crowd that the name of the tour was going to be, "Pills & Grills." That would not have gone over too well with parents.
So you know I had to bring my girl with me to see "The Iceman" Paul Wall. We got there about 7:30 pm and headed right to the bar. The place was already jumping. The place was hopping with what seemed to be ICP fans. Painted faces, Jason masks, and testosterone overload. After 2 shots of Jack and some Coors Light I was in a zone.
I will say that although downloads have hurt the music business, the live show ain't going nowhere. Music fans love their bands & artists and they are happy to pay top dollar to see them play live. Merch, tickets, drinks, it's all good.
Speaking of merch sales I was standing at the bar and I look over and see Paul Wall at his merch table. Usually bands are backstage or on the bus getting twisted before a show. There was a line around the corner. He was signing autographs, taking pictures, showing off his signature grills, and pushing merch. He was there until his set and after his set he was back at it. If that ain't a hustla, I do not know what is. Paul Wall is the real deal!
The show overall was kick ass. Lewn was a group I had never heard but I thought were powerful. I also liked the big white guys who could be linemen for the Patriots on stage. Ill Bill had a tight set. I enjoyed his lyrical prowess and his anti-establishment attitude. Paul Wall was up next and his set was tight. He did all the hits and some new stuff from his upcoming album, 'Fast Life.'Paul Wall has had a slew of hits since his breakout with, "Still Tippin'." Last up was Tech N9ne. This man is a beast! You rarely see him in the mass media but Tech has a loyal fan base like any other star out there. When Tech was on, the Palladium was crazy.
We left shortly after Tech N9ne and were in such good spirits we hit up McDonalds for some Dollar Menu and a shake. It was a super night!
Please note that Stoli will be having a Q&A coming up soon with Tech N9ne protege, Krizz Kaliko. That boy is fire! Also check out Tech's new album, Killer, coming out this summer. I also want to thank my boy Drew on the west coast for taking such good care.
www.therealtechn9ne.com
www.strangemusicinc.com
www.djpaulwall.com