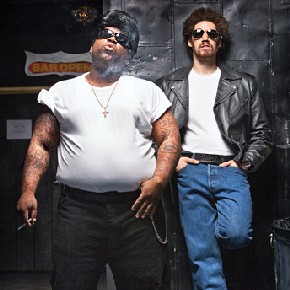 Anxious to get on the road, celebrate the summer, and perform songs from their new album The Odd Couple, Gnarls Barkley have announced a slew of upcoming festival performances.
Gnarls has confirmed 20 dates so far, including: the Roots Picnic in Philly; the Soco Music Experience in Denver; the Quart Festival in Norway; the Roskilde Festival in Denmark; Rock Werchter in Belgium; Eurockness in France; the Montreux Jazz Festival in Switzerland; the North Sea Jazz Festival in Rotterdam; the Benicassim Festival in Spain; Lollapalooza in Chicago; and the ACL Festival in Austin.
More will be announced as soon as the band is allowed to disclose.
"RUN"
 [youtube 2GA3a15xF0c nolink]
"Summer is a time to get outside, meet new people, try new things, and dance, in whatever way you dance," said a spokesperson for the band. "If anyone can coax the people outside, Gnarls can. Any excuse for a righteous throwdown."
 The new Gnarls Barkley video for "Going On" is now live.   Check it out!
"Going On" Video:
[youtube u_R9fId_Rqo nolink]
The Odd Couple, which charted #1 on iTunes during its first week of release, has been called "impeccably produced and impressively layered, an esoteric love letter to both of-the-moment studio trickery and bone-deep vintage soul" (Entertainment Weekly) and "like life itself — a unique and beautiful mystery" (LA Times). Paste says, "the duo's avant garde pop sensibility challenges other musicians to unlock their own creativity and make truly unique music."