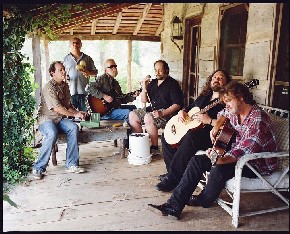 First archival release on their own Widespread Records!
This spring, fans of legendary touring band Widespread Panic will be able to fill the void between their spring and summer tours with the release of their new three disc archive album, Carbondale 2000, set for release on June 10th, 2008.   The album will be available for pre-sale on www.WidespreadPanic.com and www.LiveWidespreadPanic.com beginning on May 6th, 2008.  
Recorded live at Southern Illinois University Arena in Carbondale, IL on December 1, 2000, this very special collection of multi-track recordings features all original band members including late guitarist Michael Houser.   The first archival release of their own independent record label, Widespread Records, the 3 disc set will be available at select independent record stores, Widespread Merchandise, and digitally from LiveWidesrpeadPanic.com.   As the second release this year on Widespread Records, Carbondale 2000 is preceded by Free Somehow, which was released in February 2008 and is Widespread Panic's 10th studio album and their first studio album with legendary guitarist Jimmy Herring.  
Widespread Panic on tour this summer: www.LiveWidespreadPanic.com
Photo By: Edna Batki