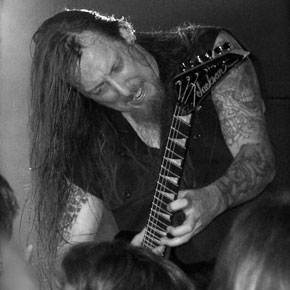 On April 25th Sledd performed to a standing room only crowd at the Roxy Theatre in Hollywood, packed the house for Rock legends "Y & T" on April 4th and played to a sold-out crowd of 450 patrons in front of Headliner "UFO" on April 30th at Brick By Brick nightclub in San Diego.
Sledd has been on the San Diego Rock Scene for over a decade with various collaborations of musicians and song writing. The band was formed in 1995 by New York based brothers Peter and Dino DeLuke and quickly became a successful original rock band that provided regional support for bands such as "Blue Oyster Cult". "Great White", "Quiet Riot", "The Vince Neil Band" and many others.
The band was named for a rare 1950s-prototype automobile, simply because "it had a gangster look." Sledd says Pantera, Led Zeppelin and Rush were their main influences, but growing up in New York, the DeLuke brothers' earliest exposure to music came through their father, who was a reed player and session man. "There were always all sorts of people coming over to the house and my brother and I were exposed to that. Booking agents, managers, and people like Stan Getz. It was a real education," Peter DeLuke said.
After traveling throughout Southern California playing the entire circuit the band headed in to the studio in 1999 to record their self-funded first album "Dopamine". The album enjoyed some local Southern California success, as the band produced and marketed the album themselves. In 2001, the band sought out a few friends in Al Pitrelli (Megadeth/Blue Oyster Cult) and Mark Kendall (Great White) to produce their next album, which was recorded at Paramount Studios in Los Angeles. This album was never released. The band continued to gig throughout So Cal for the next few years but they were still looking for the right mix.
After taking a few years off and determining where they wanted to go musically, Sledd has reformed with new Guitar Player Eric Meyer and Bassist Billy Deane and a new energy has been created and their sound has taken on a heavier vibe. Sledd is currently working on a new EP. The current Sledd is made up of core members, including brothers Peter DeLuke Jr. (keyboards, backing vocals) and Dino DeLuke (drums) as well as Cary Rothman (lead vocals), Eric Meyer (lead guitar) and Billy Deane (bass).

I asked Peter a few questions:
SKOPE: What sets SLEDD apart from other groups?
Sledd has a unique sound beginning with one of our founding members Venture Capitalist and Lead Vocalist Cary Rothman. Cary has a unique tone to his voice. He is like no other current Vocalist in the modern album orientated Rock music industry! His diversity in his vocal range allows for him to experiment with different octave ranges and vocal melodies. Both Cary and myself (Peter DeLuke/Keyboardist, Backing Vocals, Secondary Song Writer and Arranger) work very hard on writing lead Vocal melodies and harmony vocal parts. This is one of the elements that distinguish Sledd from any other musical group! Cary also writes all of our lyrics!
Lead Guitarist Eric Meyer adds a large and intricate piece to the puzzle! Eric is the primary songwriter in the group! Eric has written "Shine Down" a groovin', hard driving; in your face type of Sledd song and "Say You Will" a powerful Rock ballad that captivates the audience at each and every show! Meyer spearheaded, performed and toured with his own group "Brickbath" for several years before making the brake to join Sledd in 2006! "His Guitar tone and writing style enriches the sound of our band"!
Billy Deane is the newest member and Bassist for our group! He also adds a new dimension to the band, because he is also a songwriter. "He is beginning to come up with some catchy musical riffs to some of our new material! His value, character and commitment make him a worthy member of our project"
Dino DeLuke is one of the founding members, Drummer and anchor of the band! "Dino does as much as anybody on and off of the Sledd playing field! "He is an explosive Drummer with unique fills and impeccable time"!
The third and final founding member of Sledd is myself Peter DeLuke Jr. I am the Keyboardist, secondary songwriter, arranger and leader of Sledd! I handle public relations; act as artist management, booking agent and business manager. My musical contributions are as follows: I have co-written one of our most popular songs "Stay on Course" and our newest hit "Try"! My keyboard patches, atmospheric sounds and layers make the Sledd sound unusual, but somewhat mainstream! I also have an uncanny ability working as a song Arranger.
SKOPE: How do you feel your music changed over the years?
The Internet has changed the music industry, thus changing the way musical groups market and promote their material. Major Record Labels can no longer depend upon album/CD sales to generate the bulk of their income from bands today! In this modern era of music, touring, merchandising and publishing is how the Musician and Label focus on their revenue. One example is the inflated price of concert tickets! In order to see a National Headliner perform, you are now required to pay hundreds of dollars for concert tickets! Due to budget constraints, Smaller Independent Record Labels can be financially rewarding for the Artist, especially when they have major record label distribution deals!
SKOPE: What do you want your listeners to get from your music?
A natural euphoric state of mind! (With no mind altering substances necessary!)
SKOPE: Is the new EP out? Tell me about it?
We are working on out third LP/Album/CD. We have completed most of the tracking, some of the overdubs and we are approaching the mixing phase. The album is still officially "untitled" to this point, but we are throwing around some working titles!
SKOPE: What do you want to be doing 5 years from now?
Answer: Writing music (hit songs!!), Recording, Performing and making a comfortable living as a professional musicians! Our joy in life is making music! It is really the only thing that all of us know!
website http://www.sleddweb.com
myspace www.myspace.com/sleddmusic