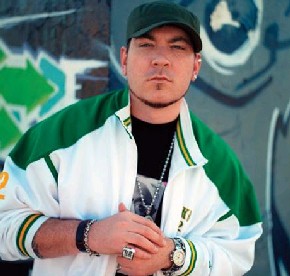 "Letters Home From the Garden of Stone" from Love, War and the Ghost of Whitey Ford Active at WBCN Boston, WXDX Pittsburgh, KNDD Seattle, KDGE Dallas, KXTE Las Vegas, KTBZ Houston!
Everlast's "Letters from the Garden of Stone," the controversial first single from his upcoming album, Love, War and the Ghost of Whitey Ford, is being added to the playlists of major radio stations around the country. As of May 6th, both the single and video are available on iTunes and other music sites.
Remember Everlast Back In The Day:
[youtube ZZZADbubu0Y nolink]
The song is told from the point-of-view of a soldier on the Iraqi battlefield questioning the war: "Do you think I should be fighting?/Are you proud or are you ashamed?/I'm trying to do the right thing/Hope the government can say the same."
Pittsburgh station WXDX (105.9 The X) jumped the gun by downloading the song from Everlast's MySpace page and adding it to the rotation after the single was voted on by listeners as its "Pick of the Litter." WBCN in Boston is scoring Top 5 phones, while the single is getting big phones at WJBX in Ft. Myers.
Everlast is not only a hip-hop legend, but a Grammy-winning singer/songwriter and multi-platinum artist. Love, War and the Ghost of Whitey Ford will be released September 23rd on his own Martyr Inc. label, in a partnership with Hickory Records, an imprint of SONY/ATV Music Publishing, through TRP Records/FONTANA Distribution.
"The sound is totally different than anything I've ever done," says Everlast, who recorded his first solo album in 1988 with Ice-T before busting out a platinum album with the group House of Pain and its iconic 1992 hit, "Jump Around." "I've been making albums long enough to know nothing is guaranteed. But I've got a feeling in my bones that I don't get very often and I like it."
Love, War and the Ghost of Whitey Ford was co-produced by Everlast with his longtime partner Keefus Ciancia, whose credits include T-Bone Burnett. It's the logical sequel to his 1998 solo breakthrough, Whitey Ford Sings the Blues, an eclectic mix of rock, blues, country, pop and hip-hop, which cracked the Billboard Top 10 and sold more than 2 million on the strength of its crossover Top 40 hit, "What It's Like."
The following year, Everlast's collaboration with rock legend Carlos Santana, "Put Your Lights On," earned him a Grammy for Best Rock Performance by a Duo or Group with Vocal. His last two albums were the critically acclaimed Eat at Whitey's (2000) and White Trash Beautiful (2004).
More recently, Everlast was recruited by Nancy Miller, creator and executive producer for the TNT series Saving Grace, starring Holly Hunter, to create the theme song for the show.
With the album complete, Everlast is ready to hit the road, with tour dates to be announced. He has already undertaken some "mash-up" performances with Ciancia and Cypress Hill's DJ Muggs.
"I just want to go out and play to as many people as I can," he says. "I don't care if I sell a million records, but if I can get a million people to come out and see me, that's even better."