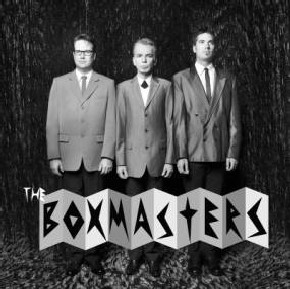 Musician and songwriter Billy Bob Thornton forges another musical path with his band The Boxmasters.
Unlike his four previous highly impressive solo recordings, The Boxmasters, also featuring J.D. Andrews and Mike Butler, offer a highly unusual singular double-dose of raging hillbilly rock.   The self-titled 2 CD set will be released on Sawmill/Vanguard Records on June 10th.   The first disc is all originals written or cowritten by Thornton, while the second disc features covers from Michael Nesmith's Some of Shelley's Blues to Mel Tillis' Sawmill to Mott the Hoople's The Original Mixed up Kid.
The video for "The Poor House," the lead track from The Boxmasters, is currently airing on GAC TV, and you can also view it by logging on to www.cmt.com and click on "The Boxmasters."   Billy Bob Thornton and The Boxmasters will be performing on the Late, Late Show with Craig Ferguson on June 19th.
Billy Bob Thornton & The Boxmasters' sound combines the influence of the Beatles, The Rolling Stones, Kinks, and the Animals, fused with Johnny Cash, Merle Haggard and Buck Owens.   Their upbeat rhythms, infectious arrangements and dark lyrical themes create a unique musical experience that is 100% The Boxmasters.
The Boxmasters will begin a cross-country tour in July with stops in New York, Austin, Memphis, Chicago, Philadelphia and Los Angeles.
Photo credit: Myriam Santos