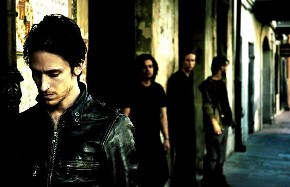 Rick Rubin-produced American Recordings/Columbia Records debut, Mercy (Dancing For The Death Of An Imaginary Enemy) available now!  
New York-based band Ours will join Filter on the band's current tour. Beginning May 20 in Atlanta and including stops in Washington D.C. and Philadelphia, the two week run will be followed by more than two months of Ours headlining dates, highlighted by a July 1 show in W. Hollywood, CA.
Led by lead single "The Worst Things Beautiful," Mercy (Dancing For The Death Of An Imaginary Enemy) was released April 15, 2008. Produced by Grammy Award winner Rick Rubin [Linkin Park, Red Hot Chili Peppers, System Of A Down], the album is Ours' debut release on Rubin's American Recording/Columbia Records and was co-produced by frontman Jimmy Gnecco. Mercy showcases the lush soundscapes and transcendent orchestrations that have made Ours such a favorite with critics and fans alike.
Having toured with the likes of Manson, The Cult, The Wallflowers and Pete Yorn, the band's live show draws much acclaim, including that of ARTISTdirect editor Rick Florino, who noted: "The band combined spacey, ethereal melodies with feral howls and a primal energy… Ours walked a fine line between art house-chic and metallic darkness during 'Black' that simply entranced its listeners. Each song saw vocalist Jimmy Gnecco nearly bursting at the seams. His soft croon and violent howl put him somewhere between Bono and Jonathan Davis… The band have big things ahead."
The band's current tour dates are available online at www.ours.net!