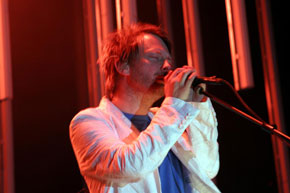 Last night British rockers Radiohead played a double encore set in West Palm Beach, Florida. This was their kick-off show for their highly anticipated US tour to promote their new album In Rainbows. It's been a couple years since the band made the pond leap to tour in the States and the expectations were high. The rock perfectionists delivered a precise and dramatic performance that only further cemented their place among the pantheon of rock gods.
Front man, Thom Yorke, humbly addressed the crowd and revealed his surprise on the turnout, "I didn't think we were that popular down here." He dotted his performance with comments on his stay in South Florida and, in particular, recounted his visit to Miami and how things had changed since the last time he was there. He humorously pointed out how out of place he was there as a "pale Brit", a sharp contrast from the sun worshiping denizens of Sobe. Personal and engaging, Yorke shrank the huge amphitheater with his intimate approach and brought the crowd into his world.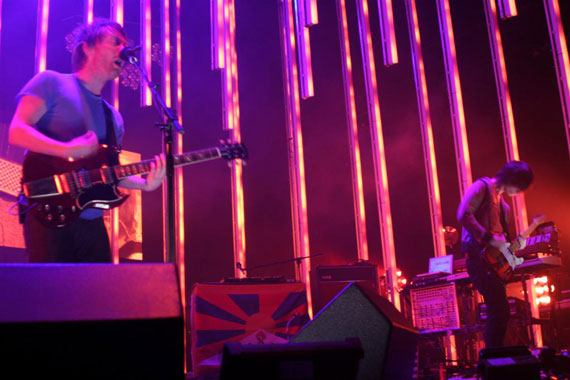 The massive audience that was gathered at Cruzan Amphitheater was captivated and, after vigorous applause, Radiohead continued with two separate encore performances. They played a wide range of material touching on much of their discography offering up a varied experience from the energetic "Bodysnatchers" to the down tempo "Bulletproof". Thom Yorke's angelic voice floated on the balmy Florida air and the atmospheric instrumentation lulled the crowd into a musical reverie. The last song was "Street Spirit (Fade Out)" and the beautiful intimacy of that piece was the bittersweet farewell we all knew had to come.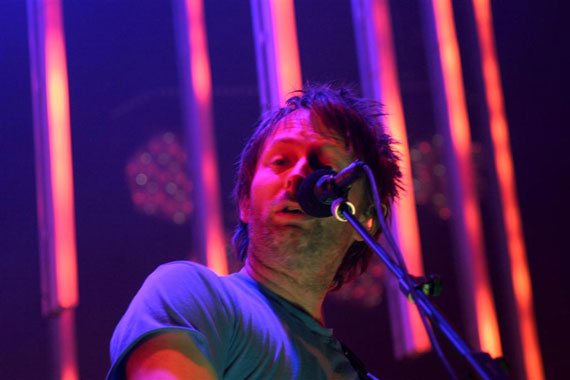 By Shaun Flagg
Set list with album information:
All I Need — In Rainbows
Bodysnatchers — In Rainbows
There There — Hail To The Thief
Reckoner — In Rainbows
Gloaming — Hail To The Thief
Morning Bell — Kid A
Nude — In Rainbows
How to Disappear Completely — Kid A
15 Step — In Rainbows
Weird Fishes/Arpeggi — In Rainbows
Idioteque — Kid A
Bulletproof…I Wish I Was — The Bends
Where I End and You Begin — Hail To The Thief
Airbag – OK Computer
Everything in its Right Place — Kid A
National Anthem — Kid A
Videotape — In Rainbows
—————
Optimistic — Kid A
Just — The Bends
Faust Arp — In Rainbows
Exit Music — OK Computer
Bangers & Mash — In Rainbows (limited edition UK release)
———————
House of Cards — In Rainbows
Street Spirit (Fade Out) — The Bends
[album:http://skopemag.com/images/Radiohead_050508/]