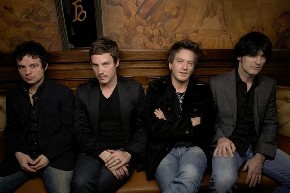 "Stand," the first single off INTO THE SUN, goes to Active Rock and Rock Radio this month – Candlebox On Tour All Summer.
Candlebox make their triumphant return to the modern music game this summer with their first new record in ten years. INTO THE SUN will be released July 22nd on Silent Majority Group in conjunction with Warner Music Group's Independent Label Group.
The original Candlebox songwriting team of singer Kevin Martin and guitarist Peter Klett along with original drummer Scott Mercado, reunited shortly before the 2006 Rhino/Warner Brothers retrospective, Best Of Candlebox was released. Candlebox's 2008 lineup features 3 of the founding 4 members — Only bass player Bardi Martin has been replaced by Adam Kury. After being apart for more than 7 years, Martin and Klett discovered that the time and tide apart had nurtured enhanced chemistry and mutual personal evolution that has now manifested in a cache of new songs that leave their past works, for lack of a better phrase, far behind.
INTO THE SUN was produced by Ron Aniello (Barenaked Ladies, Lifehouse) engineered by Cliff Norrell (REM, Henry Rollins) & mixed by Norrell and   Mike Shipley (Nickelback, Def Leppard). Kevin Martin (Vocals) and Peter Klett (Guitar) Scott Mercado (DRUMS) and Adam Kury (BASS) have come together to make a bold, eclectic mix of rhythms and textures that will make long-time Candlebox fans mouth's water and has the potential to vault this band back into the national spotlight. Remember, this is a band that's sold over Six Million albums in the US alone.
INTO THE SUN Confirmed Tracklisting:
Stand
Bitches Brewin
Surrendering
Into The Sun
Underneath It All
Miss You
How Does It Feel
A Kiss Before The Dying
Breathe Intro
Breathe Me In
Lover Come Back To Me
Consider Us
"Stand," the first single off Into The Sun, goes to active and rock radio in May and is currently streaming on the bands MySpace page, www.myspace.com/candlebox – If you think   radio programmers have forgotten about Candlebox, think again. Candlebox is as permanently entrenched on rock radio playlists as a Nirvana or a Pearl Jam.
Kevin Martin, Vocals:
"I really feel this is our best work to date, seemed like old times in the studio and I really enjoyed making this record. When we started writing the songs for this record back in '07 I think we all felt like we were on to something special. I think you can hear that in the songs, they just speak to you like an old friend you haven't seen in years but are so happy to be able to catch up with."
Peter Klett, Guitar:
"Making this record reminded me of the first album – we didn't feel that we needed to find the sound, it was there and the goal was to capture it in the recording. I feel we did that and more…it was nice to end up with some live, off the cuff, recordings such as the intro to breathe….it was one of those moments that just happens…all of us in the same room feeding off one another….very exciting to feel that again."
Scott Mercado, Drums:
"Without a doubt, Candlebox fans are the most loyal and greatest fans in the whole world. I can't wait to hear what they think!"
CANDLEBOX UPCOMING TOUR DATES INCLUDE:
05/07/08                   Beaumont, TX                                                   Ford Exhibition Hall
06/04/08                   Tacoma, WA                                                     Tacoma Dome — KISW show w/Chevelle
06/27/08                   Maplewood, MN                                         The Rock
06/28/08                   Rock Island, IL                                               Rock Island Plaza — Daiquiri Fest
06/29/08                   Mt. Clemens, MI                                           Stars & Stripes Festival  
07/04/08                   O'Fallon, MO                                                   Ozzie Smith Sports Complex
07/11/08                   Salem, OH                                                             Quaker City Raceway
07/12/08                   Ft. Wayne, IN                                                   Headwaters Park — Three Rivers Festival