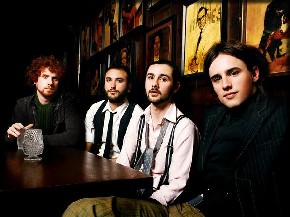 EMBARK ON NATIONAL TOUR AND PERFORM AT BONNAROO 2008
The indie DASLabel is proud to announce the May 6th release of Nothing Without You, the debut EP from Carney. The release coincides with the beginning of a 30+ date tour culminating with their performance at this year's Bonnaroo Music And Arts Festival in Manchester, TN.
The Los Angeles four-piece is fronted by Reeve Carney, lead vocals & guitar, and Zane Carney on lead guitar, along with John David Lipscomb on bass and Jon Epcar on drums.
The story of the band starts in earnest in 1997, when Reeve's mother, after becoming unable to afford guitar lessons, started bringing Reeve to an old Los Angeles blues club where he started playing weekly with artists over twice his age. The experience brought a maturity and worldview not often found in such a young songwriter. Reeve soon began playing with his brother Zane and friends from school. As the band grew older and Carney's sound developed, they drew influences from artists and individuals as divergent and innovative as John Lee Hooker, David Bowie and Django Reinhardt to Tim Burton, Thomas Edison and Walt Disney.
Years of playing in and around LA culminated in Carney securing a weekly residency at the historic Molly Malone's. The shows at Molly's have become something of an LA phenomenon.   An initial audience of friends and family has, from word of mouth alone, become a packed house filled to capacity, the front doors having to be shut before Carney can go on stage. Although the band is only in their early 20's, they play with a prowess that's unmatched by many of their peers.
Carney captured the imagination of manager David Sonenberg (of Fugees and Black Eyed Peas fame). They have been signed to his newly formed DASLabel and their album Imperial Lover will be released in the fall of 2008. Try to catch the band touring, as that is what Carney is all about and will be doing non-stop for the foreseeable future.
May 2008
—
07 – Sticky Fingers – Little Rock, AR
08 – Plan B – Tulsa, OK
09 – The Cavern – Dallas, TX
10 – Warehouse Live – Houston, TX
11 – Emo's – Austin, TX
13 – Blueberry Hill – St. Louis, MO
14 – Birdy's – Indianapolis, IN
15 – Redstone Room – Davenport, IA
16 – The Rave (Eagles Club) – Milwaukee, WI
17 – Kinetic Playground – Chicago, IL
18 – The Eagle Theater – Pontiac, MI
20 – House of Blues – Cleveland, OH
21 РClub Caf̩ РPittsburgh, PA
22 – Coffee East – Easton, MD
26 РHard Rock Caf̩ РMyrtle Beach, SC
27 РHard Rock Caf̩ РMyrtle Beach, SC
29 – Rusty Rudder – Dewey Beach, DE
30 РWorld Caf̩ (Upstairs) РPhiladelphia, PA
31 – Johnny Brendas – Philadelphia, PA
June 2008
—
02 – Mercury Lounge – New York, NY
03 – Higher Ground (Showcase Lounge) – Burlington, VT
05 – Stone Church – Newmarket, NH
06 РCaf̩ 939 (Berklee College) РBoston, MA
08 – Maxwell's – Hoboken, NJ
14 – Bonnaroo Music Festival – Manchester, TN