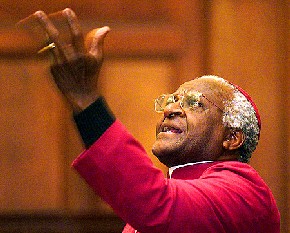 An architect of freedom in his native South Africa, Archbishop Desmond Tutu has given his support to WeLoveFreeMusic.com (www.welovefreemusic.com), a new model that aims to alter the recorded music industry and media business.
The website, which has the potential to be the most powerful, ubiquitous platform for the discovery and delivery of music worldwide, was deployed live by the Nobel Peace Prize winner and music entrepreneur Steven Nowack during a press conference held today at Terminal 5 in New York.   Among those performing artists on hand to demonstrate the platform, and celebrate "the day that music was set freeâ"¢," were Naomi Striemer, Idrissa Diop, Shawn King and Mario Winans.
"Given the potential of this website to aggregate millions of users worldwide, no longer will artists have to break down the powerful barriers to accessing a global audience," stated Nowack.   "We believe that people everywhere crave the ability to discover and enjoy new superstar talent, and our platform gives the world unfettered access to do so."   As distinct from user-generated content platforms, WeLoveFreeMusic.com will also offer artists and songwriters the opportunity to collaborate with, and be produced by, world-class producers.
Having recently met Nowack by chance, Archbishop Tutu found the idea of an online portal for free music "incredibly powerful," benefiting both music fans and artists worldwide. The global gathering of artists performing at today's press conference, from Canadian Naomi Striemer to Africa's own Idrissa Diop, is itself a vivid metaphor for unity and shared experience that the website can greatly amplify.
From the early days of Napster to the present, web users have been weaned on free music, and neither the advent of pay services nor the litigious stance of the music industry has slowed this phenomenon.   WeLoveFreeMusic is the first record company website to give away exclusive, professional (not user-generated) content, without the limitations of digital rights management (DRM) software or a demand for personal marketing information.   Within several weeks, says founder Steven Nowack, the site plans to debut one free, fully produced song each day.
Nowack, who was involved in the capital markets, entered the music business in 2005, creating a record company to launch the career of Naomi Striemer and securing collaborators like Carlos Santana and Grammy-winning producer Narada Michael Walden (Mariah Carey, Whitney Houston) to craft her album Images, "the most downloaded album in Canada during the final two weeks of 2006," according to the Montreal Gazette.   Given his background, Nowack brings both a deep understanding of financial models and a passionate love of music to this venture.   "The major record companies are too bloated and burdened to do what I'm doing," he explains.   Not only does Nowack own a growing library of content as chairman/CEO of his independent label, SOS Records, he is in the "fortunate position" to take a risk on an ambitious web start-up.
The internet, says Nowack, has become the great equalizer helping to democratize everything from entertainment to journalism to politics.   "Throughout modern music, A&R representatives and radio program directors have been all-powerful gods — deciding which artists get signed, which songs are produced and what will be heard, or not heard, on the radio."   Today, TV shows like "American Idol" are tipping the scale toward a more artist-centric model.   The internet also plays a strong role: close to 50% of users on MySpace and Facebook are aspiring artists.
WeLoveFreeMusic.com not only offers gratis content to music fans while encouraging legal peer-to-peer file-sharing, but also creates a platform that finds and nurtures new talent.   The site will invite performing artists, songwriters and creative talents worldwide to post content online.   The best will be given the opportunity to collaborate with top producers, the first among them Mario Winans (Destiny's Child, Mary J. Blige, Jennifer Lopez), and be signed by SOS Records.   Giving new songwriters the opportunity to be published and create hits, and artists the chance to develop a fan base that enables them to tour worldwide, WeLoveFreeMusic is also committed to restructuring inequitable record label standards by fairly compensating songwriters and artists for their talents.
Similar to Google or YouTube, WeLoveFreeMusic.com will have an organic advertising component, also generating revenue through the sale of physical product.   "People may want free music, but they're also willing to pay for something special, like beautifully packaged product that can't be downloaded," said Nowack, as he celebrated "the day that music was set free."