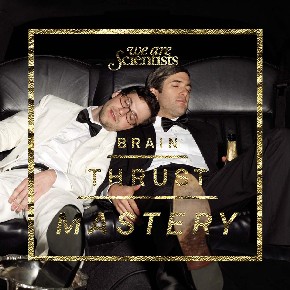 We Are Scientists shocked themselves and impressed many others with their 2005 debut With Love & Squalor.
On the strength of dancefloor standbys "Nobody Move, Nobody Get Hurt;" "It's A Hit;" and "The Great Escape" (as well as nine other songs that, to all appearances, people also liked) the album sold over 150,000 copies in the UK and earned them praise from fans and critics back home in the US as well.
The band spent 2007 at weight-loss camps, alcoholics' dry-out facilities, and a race car school, yet has also found time to pen, record, and road-test their sophomore offering, Brain Thrust Mastery. If W.A.S.'s first album had been far, far better than it was, and of a far more mature style, and if they had then released a limp, unenjoyable second record, and if Brain Thrust Mastery were actually their third album, it would be hailed as 'a return to form', as 'equal to — in many ways an improvement upon — the monumental debut'.
We Are Scientists began, in spirit, at Pomona College, in Claremont, California, in the Fall of 1997, when Keith Murray and Chris Cain met at a viewing of Dawson's Creek held in the latter's dorm room. Though at the time they couldn't suspect any of the details of the coming decade, it was apparent to both of them that they would spend many long years riding buses together — some kind of pro-sports, they assumed. In 1999, freshly graduated and moved to Berkeley, CA, the two started We Are Scientists with little more between them than a dream, a couple of cut-rate instruments, and $1.4 million in lottery winnings.
Nine years later, the band has long-since relocated to more fashionable New York City, seen many countries their parents swore to them were 'myth, accursed myth', and finally dated girls. In the Fall of '07, long-time drummer Michael Tapper retired from the band, and We Are Scientists added a new drummer, plus, in a fit of accumulation, a fourth man on-stage. Keith and Chris also began giving inspirational lectures at universities across the UK during their hitherto unencumbered afternoons. On Brain Thrust Mastery, all of their experience (and some they only read about) shows.
http://www.wearescientists.com
http://www.myspace.com/wearescientists