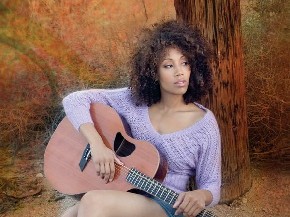 Rissi Palmer recently recorded her own version of the hit song, "No Air." Her version is so incredible that I knew there had to be more to this musician. I headed down to Tennessee and between her image & voice, I was left with no air.
Stoli: You had a major role in the Jordin Sparks/Chris Brown hit song, "No Air." I heard the track on your MySpace page so please explain the connection.
 
Rissi:   I wish that I could say that I wrote that song, but I didn't. Nathan Chapman (the producer of my version of "No Air") and I heard Jordin and Chris' version,   loved it, and thought it might be interesting to create our own.   It was really an experiment and   we're both extremely pleased with the outcome. My label and my manager heard it and loved it as well and now it is my current single.
Rissi Palmer – "No Air"
[youtube SWwS6aQjZog nolink]
Stoli: What made you want to do your own version of, "No Air?"  
Rissi:   I love Jordin and Chris' version of the song; it's what inspired me to do my own!
Stoli: You are an incredible singer & songwriter. Do you assist other musicians to create music?
Rissi:   First of all, thank you for the compliment!   Any song that you see with my name attached to it is great primarily because of the people I have been blessed to collaborate with.   Actually, I prefer to sit with another songwriter or player and create because you are able to play off of each other's strengths and vibe and make something that is completely unique.
Stoli: By first glance one might not see you as a country singer. How did you decide you wanted to pursue country music?
Rissi:   I've loved country music since my childhood.   I've always admired the songwriting and realness of country music and have always related to it.   I grew up in a household where Patsy Cline, Loretta Lynn, and Dolly Parton were played along with Earth Wind and Fire, Aretha Franklin, and James Taylor, so my sound is a mixture of all those influences.    
Stoli: Who are some country singers before you that inspired you to create music?
 
Rissi:   My mom loved Patsy Cline, so she was and is one of my biggest influences.   I personally love Vince Gill, Dolly Parton, Tammy Wynette, and Wynonna.  
Stoli: How would you describe the live music scene in Tennessee and is it diverse or mostly country?
 
Rissi: The live music scene in Nashville is great!!!   Its way more diverse than you would think here.   On any given night you can hear a new rap group, country act, or punk rock band.   I think Nashville's songwriting community and musician pool draws artists from all genres to town.
 
Stoli: You stay busy touring a lot. What is your favorite part of being on the road?
Rissi: Performing is what I love best, but outside of that, I love going somewhere I'm never been before and meeting new people.   I also like collecting hotel ink pens (ha ha).
   
Stoli: I was surprised to see that you are not on a major label. Is that on purpose, because you are obviously good enough?
 
Rissi:   I'm on an independent label by choice, because that's who first understood me as an artist.   Terry Johnson and 1720 Entertainment have allowed me to completely be myself and make the kind of music I wanted to make.   I know I have more freedom and room to grow than a lot of major label artists.
Stoli: You lost your mother at an early age. Do you feel that she watches over you and can still hear you singing to her?
Rissi:   I definitely feel she's with me and can hear me.   I think of her a lot, especially right now during this exciting time and I hope that she's proud.
 
Stoli: What is the most personal song that you have recorded yet?
Rissi:   All of my songs are based on personal experiences, but I guess the most personal song I've recorded to date, is "Love You like a Woman" that's on my new album.   I wrote that about a specific person and situation and I always feel a little like I'm telling too much when I sing it.
Stoli: Your self titled album has been in stores, are you pleased with the reception that you have received from fans?
Rissi:   I am pleased   Every time I receive a message from someone who has bought the album and loves it, or identifies with it, I'm very satisfied.
 
Stoli: What is the most important part of being a musician to you besides $$?
 
Rissi:   For me, the most important part is uplifting people. I'm in a position where people listen and watch what you say and do so I feel a responsibility to be positive.    
Stoli: What can we look forward to from Rissi Palmer for 2008 & beyond?
Rissi:   Lots more touring and more music!!
Photography by Jimmy Bruch