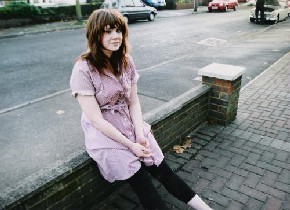 Kate Nash has announced that she will add a Los Angeles date to her current U.S. touring schedule. On May 14th Kate will perform at the Henry Fonda Theater.   See below for a list of remaining dates on Kate's U.S. Tour.
While in Los Angeles Kate will make a stop at Jimmy Kimmel Live May 16th to perform her single "Foundations."
In just over 12 months since her first gig in the U.K., writing songs on her laptop while recuperating from a spill that left her with a broken foot, posting those songs on myspace, releasing her first single "Caroline's A Victim," signing with Fiction/Geffen Records, rocking the charts with her next single "Foundations" and seeing her debut album Made of Bricks enter the U.K. charts at #1, Kate Nash, the 20 year old from Harrow, is ready to tour America.   Made of Bricks was released on Fiction/Geffen records on January 8th and debuted at #36 on the Billboard Top 200 chart.  
Produced by Paul Epworth (Bloc Party, Babyshambles) Made of Bricks captures the life of a 20 year old who is full of mixed emotions about bad boyfriends and friendships and often searches for that inner child within us all.   The U.S. press has been quick to laud praise upon the young Kate with the New York Times calling her debut "Infectious" and "loveable" and Spin Magazine declaring it "Pop Ecstasy," while Filter Magazine exclaims "Kate Nash is something special."   Rolling Stone featured Kate as on of their "10 Artists To Watch" for 2008 while the New York Daily News stated "her album deserves to make her the first breakout star of '08."
Below is a list of remaining tour dates for the "NME Awards Tour" featuring Kate Nash:
May 2                             Chicago, IL                                   The Vic
May 3                             Minneapolis, MN                   First Avenue
May 5                             Boulder, CO                               Fox Theatre
May 8                             Vancouver, BC                       Richard's on Richards
May 9                             Seattle, WA                                 Showbox
May 11                         Portland, OR                             Wonder Ballroom
May 13                         San Francisco, CA         The Fillmore
May 14                         Los Angeles, CA                 Henry Fonda Theater
Photo By: Clare Nash