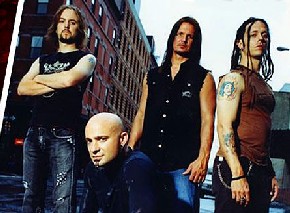 Reprise Records' best-selling hard-rock band Disturbed have the Number One track at Active Rock radio with "Inside the Fire," which is the lead single from the band's forthcoming June 3rd release, Indestructible.
The track, which was released digitally on March 25th, is Disturbed's sixth Number One single at Active Rock, and the band's fastest-rising chart-topper to date, according to Billboard. Their previous Number One Active Rock singles are "Down With The Sickness," "Prayer," "Liberate," "Stricken," and "Land of Confusion."
Indestructible – the self-produced follow-up to the Chicago quartet's 2005 RIAA-certified platinum Ten Thousand Fists – will be released in three different configurations: standard CD, CD + DVD, and DTC (Direct to Fan). Each configuration will feature a unique cover illustration by comic book artist David Finch.
Disturbed has sold a collective 10 million copies worldwide of their three albums – 2000's RIAA-certified triple-platinum The Sickness, 2002's album chart-topper Believe, and their second consecutive Number One Ten Thousand Fists – since forming in Chicago in 1996. The band is currently on tour leading up to the album release, and this summer will co-headline the Rockstar Energy Mayhem Festival with Slipknot.
Disturbed on tour:
5/2 Springfield, MO – Shrine Mosque
5/3 Memphis, TN – Beale Street Music Festival
5/5 Myrtle Beach, SC – House of Blues
5/6 Knoxville, TN — The Valerium
5/8 Orlando, FL -House of Blues
5/9 Birmingham. AL – Sloss Furnace
5/11 Richmond, VA – The National
5/12 Atlantic City, NJ – House of Blues
5/14 Cincinnati, OH – Bogart's
5/15 Ft. Wayne, IN – Piere's
5/17 Columbus, OH – Rock on The Range