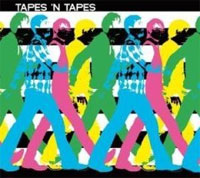 A common trait among second albums is a strong start and a weak finish. The opposite is true for Tapes 'n Tapes' second album.
Walk It Off doesn't start off terribly, but it's not altogether memorable either. It seems to hit its stride on "Conquest", a brightly musical song.
But it isn't until the seventh track that we see this band from Minneapolis in full bloom. "Demon Apple" starts a run of three songs that sell the whole album — the run also includes "Blunt", a jagged tune, and "George Michael", a song which does use a guitar line reminiscent of the '80s pop icon and some cool drumming by Jeremy Hanson.
Walk It Off is a good second album if you're already into Tapes 'n Tapes. But if you're looking for an introduction, better to head to The Loon.
By Jon Tully
[Rating: 2.5/5]
Listen to "Blunt"
[audio:Walk It Off_Tapes n Tapes_8_Blunt.mp3]