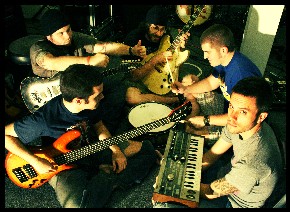 Victory Records' BETWEEN THE BURIED AND ME, the band that is responsible for perhaps the most innovative and engaging metal in recent years, will be supporting Dream Theater on a full U.S. tour this May.
Kicking off this Friday, May 2nd, at Gibson Amphitheatre in Los Angeles, Progressive Nation 2008 will crisscross the entire country, culminating June 1st at Tampa's Ruth Eckerd Hall. The stellar lineup also features acts Opeth and Three, ensuring that this tour will in fact unite One Nation, Under Prog.
Last September, BETWEEN THE BURIED AND ME painted the world with Colors, their most symphonic release to date. This landmark record is comprised of exactly one hour of intertwined tracks, each one beautifully flowing together into an album that is meant to be enjoyed as a whole. BTBAM chose not to release a single or make a video for any track, proving that Colors is focused on imagination and musicianship- a rarity in the music world today. Following a nationwide headlining run last fall playing Colors in its entirety every night, BTBAM supported the Dillinger Escape Plan on their trek across Europe. After appearing on OzzFest and touring with bands like Chiodos and Dragonforce, these North Carolina natives are seasoned veterans on the road and are prepared to live up to the standards set by fellow progressive metal groundbreakers Dream Theater.
www.myspace.com/betweentheburiedandmeband
Progressive Nation 2008 Tour Dates are as follows:
May 2, 2008                       Universal City, CA, US @ GIBSON AMPHITHEATRE
May 3, 2008                       Oakland, CA, US @ PARAMOUNT THEATER    
May 4, 2008                       Portland, OR @ ROSELAND THEATRE    
May 5, 2008                       Seattle, WA, US @ WAMU THEATER    
May 6, 2008                       Vancouver, BC, CA @ ORPHEUM    
May 8, 2008                       Spokane, WA @ BIG EASY    
May 9, 2008                       Calgary, AB, CA @ MACEWAN HALL    
May 10, 2008                   Calgary, AB, CA @ MACEWAN HALL    
May 12, 2008                   Minneapolis, MN, US @ MYTH    
May 13, 2008                   Chicago, IL, US @ ROSEMONT THEATRE    
May 14, 2008                   Detroit, MI @ THE FILLMORE DETROIT    
May 15, 2008                   Pittsburgh, PA @ MR. SMALLS    
May 16, 2008                   Columbus, OH, US @ LC AMPHITHEATER    
May 17, 2008                   Cleveland, OH, US @ TIME WARNER CABLE AMPHITHEATER
May 18, 2008                   Albany, NY, US @ THE ARMORY
May 20, 2008                   Boston, MA, US @ ORPHEUM THEATER    
May 21, 2008                   New York, NY, US @ TERMINAL 5    
May 22, 2008                   New York, NY, US @ TERMINAL 5    
May 26, 2008                   Washington DC, DC, US @ DAR CONSTITUTION HALL    
May 27, 2008                   Richmond, VA, US @ THE NATIONAL    
May 28, 2008                   Atlanta, GA @ TABERNACLE    
May 30, 2008                   Miami, FL, US @ THE FILLMORE    
May 31, 2008                   Orlando, FL, US @ HARD ROCK LIVE    
Jun 1, 2008                         Tampa, FL, US @ RUTH ECKERD HALL    
Photo By: C Johnson