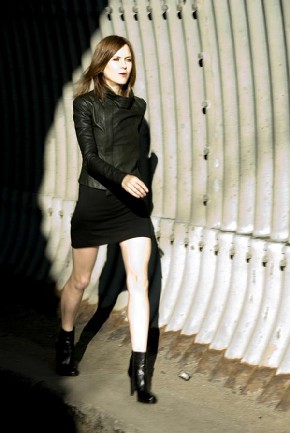 Hatfield Debuts New Songs At Joe's Pub In New York City On May 21st & Autobiography To Be Published By Wiley and Sons In 2009!
 
Juliana Hatfield will preview songs from How To Walk Away – her 10th solo album in a remarkable 20-year-career – in a special show at Joe's Pub in New York City on May 21st. The record is scheduled for release on August 19th on Hatfield's own label, Ye Olde Records (distributed via Redeye).
Produced by Andy Chase (of revered alt-rock/pop band Ivy) and recorded at Stratosphere Sound, the NYC studio co-owned by Chase, Adam Schlesinger (Fountains Of Wayne) and James Iha (formerly of Smashing Pumpkins), How To Walk Away features guests Richard Butler (Psychedelic Furs) and Matthew Caws (Nada Surf) on vocals, Jody Porter (Fountains of Wayne) on guitar, Tracy Bonham (violin) and more.
The album, which contains some of Hatfield's most candid writing ever, is evocative, layered, and unhurried.   And yet, Chase has managed to retain her   essential rawness of spirit, smoothing out some rough edges but not all, as evidenced by the loose, danceable "Now I'm Gone," sung and played by Hatfield in one inspired improvisational take. Walking away – and the loneliness that sometimes results – is a recurring theme. But while the songs' protagonists may be fatalistic, they are not without faith. Even in an outwardly sad song like "Such A Beautiful Girl" (co-written by Jason Hatfield, Juliana's brother), hope is not dead; the girl of the title waits patiently for a future that she knows, odds are, will be better than where she finds herself now. Similarly, the bittersweet yet life-affirming "Shining On" – mixed by veteran hit-making producer David Kahne (Kelly Clarkson, Paul McCartney, Sugar Ray, the Strokes) – exhibits a hard-won resilience in the face of disappointment and betrayal.
Fans who visit Hatfield's website and MySpace page (see below for links) can hear "Shining On" and check out the blog wherein she writes about songs selected by fans from her sizable repertoire. "Read it at your own risk – illusions may be shattered," Hatfield warns.
She first came to prominence in her teens as a founding member of critically-acclaimed Boston indie rock band the Blake Babies. After four independent albums with the group, Hatfield signed to Atlantic as a solo artist and had a slew of modern-rock hits (including "My Sister," "Spin The Bottle" and   "Universal Heartbeat"). She left the label in 1998, signing to Zoe Records (a Rounder Records imprint) and releasing four well-regarded albums, including 2004's In Exile Deo, named as one of that year's 10 best albums by The New York Times' Jon Parales. In 2005 Hatfield came full circle, back to full DIY independence, releasing Made In China (hailed as "her most urgent, refreshingly unpolished output in years" by Time Out New York) on Ye Olde Records, her own label. Ye Olde Records released Frank Smith's Heavy Handed Peace and Love in 2007 as well as her collaboration with the band, Sittin' in a Tree, a six-song EP.
Hatfield, whose autobiography will be published by Wiley and Sons in 2009, recently contributed "Back To Freedom," an exclusive track recorded during the How To Walk Away sessions, to the Green Owl Compilation: A Benefit For the Energy Action Coalition.
The track listing for How To Walk Away is as follows:
1.       The Fact Remains
2.       Shining On
3.       The Lonely Love
4.       My Baby…
5.       Just Lust
6.       Now I'm Gone
7.       Remember November
8.       So Alone
9.       Such A Beautiful Girl
10.     Law of Nature
http://www.myspace.com/julianahatfield
http://www.bighassle.com
Photo by Jonathan Stark