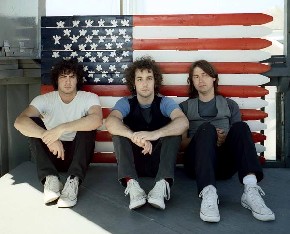 ¿Cómo Te Llama? is the new album from Albert Hammond, Jr. and cohorts Matt Romano, Marc Philippe Eskenazi and Josh Lattanzi, and will be released July 8th.

Following his feted 2007 solo debut Yours To Keep, Albert Hammond, Jr. and his merry men return with a new album ¿Cómo Te Llama? (or "What's Your Name?" if your Spanish is a little rusty). The title, rung out of casual conversation between Albert and Matt over some vino tinto, hints at the classic, summery music held within.
The record was recorded over 5 weeks at Electric Lady Studios and produced by Albert along with engineer Gus Oberg and drummer Romano. "I'm really proud of the power this record has," says Albert. "I feel like my melodies and song arrangements have matured. Lyrically, I tried to have the words flow out more freely and not try to write one song but many. I would just sing and sing and then arrange the words afterwards."
From the heavy riffage of "The Boss Americana", the woozy charm of lilting instrumental "Spooky Couch" to the bright, reggae-bounce of "Borrowed Time", it's clear that ¿Cómo Te Llama? is perhaps the boldest, most eclectic and ambitious record of Albert's career. "My favorite songs would be 'Borrowed Time', 'Victory At Monterey' and 'You Won't Be Fooled By This'" says Albert. "I love the whole record, but they change day by day, it's like deciding what you want to eat." "GfC" will be the first single from the album.
Musically, Albert's band played a much greater role in the creative process of the new record as he explains; "Every one of the band members brought his or her personality to the music. Even if they played a part I had written they made it their own, I'd get it back and arrange all these new ideas into a better song then we had before. Marc represents youth and curiosity. Josh represents age and wisdom and Matt is the best friend that helps me communicate the rhythm of the music. He's the spark. I love sharing my music with these tasty motherfuckers!"
Additional personnel were added to the record in the form of Sean Lennon's piano on "Spooky Couch" and the string quartet of Earl Maneein (violin), Matt Szemela (violin), Jon Weber (viola) and Jessie Reagen (cello) on multiple tracks. Also, the shadows of The Kinks, The Clash and Crazy Horse-era Neil Young were cast over Albert's songwriting on the record; "Not so much that the album sounds like any of those bands, its just they gave me a new way to express my songwriting."
With a tour penciled for summer, the band are in exuberant spirits, as Albert reveals; "Our goal is to tour this album every where we can, get into those cracks and fill them up with music!"
01 Bargain Of A Century
02 In My Room
03 Lisa
04 GfC
05 The Boss Americana
06 Rocket
07 Victory At Monterey
08 You Won't Be Fooled By This
09 Spooky Couch
10 Borrowed Time
11 G Up
12 Miss Myrtle
13. Feed Me Jack Or: How I Learned To Stop Worrying And Love Peter Sellers
Photo by Lane Coder
http://www.myspace.com/alberthammondjr