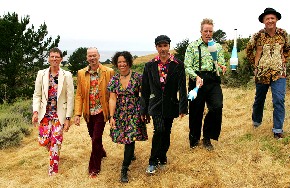 The Sippy Cups return to the national stage this spring and summer with a musically fresh, theatrically ambitious whirlwind of a show for kids and families.
The band's tour will take them from their home state of California to Midwest and East Coast cities including New York, Chicago, Philadelphia, Washington DC, Madison, Albany and Northampton MA. See reverse for a complete list of dates.
The Sippy Cups' engaging live shows feature a beloved cast of juggling unicyclists, oversized puppets, sensitive super-heroes and other comedic characters.   Acrobats and aerialists add to the spectacle on some dates.   A new repertoire expands the unique combination of recast cult classics and winning pop-rock originals that originally garnered the band its loyal, multi-generational following.
Less than three years after the band began, The Sippy Cups have grown from their San Francisco roots into a nationwide phenomenon.   Their first full-length original CD, "Electric Storyland," garnered widespread critical acclaim and was ranked #6 for the year in the 2006 Fids & Kamily Music Awards.   This was followed by the 2007 release of a live concert DVD, "Electric Storyland, Live at The Great American Music Hall," recent winner of a 2008 Parents Choice award.   The band has toured to major concert halls and festivals across the country including Symphony Space in New York City, Austin City Limits and Lollapalooza.