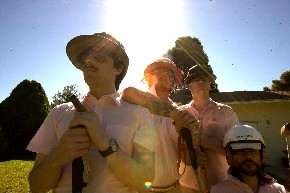 Buzznet is proud to announce the launch of the Weezer "Pork and Beans" virtual food fight http://www.buzznet.com/cp/weezerfoodfight/. Celebrating the recent iTunes release of Weezer's first single off the soon-to-be released self-titled album, "Pork and Beans," the aptly-titled promotion allows users to splatter the profiles of their friends through the simple insertion of codes within each page's notes section.
Promoting fan involvement for the release through this heated food fight, Buzznet users can retaliate at will by tagging the top of each of their chosen profile pages with a heaping helping of the canned food favorite. Additionally for the promotion, a donation will be made in the name of the participants to Conscious Alliance (http://www.consciousalliance.org), a non-profit organization that distributes food and resources to communities in the United States most in need.
The new self-titled album can now be pre-ordered on iTunes through Standard (12 songs) or Deluxe version (16 songs- Deluxe version also comes with an instant free track of the new "Pork and Beans" single).
Both pre-order versions come with a special password to buy tickets before the public onsale for Weezer's U.S. tour. You must pre-order the album by June 23, 2008, 11:59 PM local to be eligible to receive these added features. Event markets and presale times will be announced in the coming weeks.
Join Buzznet and Weezer's "Pork and Beans" Virtual Food Fight