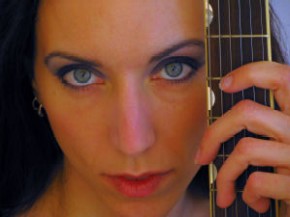 Working here at Skope Magazine is like a dream. Not only do I get to discover new artists that inspire me but I get to interview & interact with them too. This next artist I heard 3 weeks ago and I could not believe what a soulful & inviting voice she has. That artist is the beautiful, talented, and very chill Kelly Greene. Kelly is busy preparing to release her second CD and I just had to see where she was at with that and life in general.
Stoli: There is a lot of anticipation for your new album. Can you tell me a little about what you did different on this album from 'You Leave Me Here'?
Kelly: I would have to say just about everything. There is certainly nothing wrong with the first album, it's a very good pop-rock cd and the team we worked with on it was great, but I think first albums can be a little nerve-wracking and sometimes you hold back; I held back and trusted others to do some of the thinking for me. Essentially I was along for the ride [on the first], but on the next album I was definitely in the driver's seat without a doubt. Working with producer Jason Rubal on the second album was an amazing experience for me; he empowered me to do what I do best and we recorded a kick-ass ROCK album.
Stoli: My favorite song from you is, "These Are the Things." What was the inspiration for you to write that song?
Kelly: Somehow I knew you would say that [laughs]. Nine out of ten people tell me that "These Are the Things" is their favorite track off of that album. I was sitting in traffic on the way home from the day job for about two or three hours, feeling a little down about things and I was ad-libbing over top of another song in the CD player when the chorus just spilled out and stuck. It wasn't until six months later that I actually sat down to write the song. It was a combo of my own feelings at the moment and a break-up that a friend was going through. The whole idea of the fairy-tale relationship never quite living up to the dream is what started it: "You and I have never been as beautiful as we should be…"
Stoli: You have a very unique but beautiful voice. When did you realize that you wanted to pursue a career in music?
Kelly: Thank you. It's kind of funny because we didn't realize that I was actually able to sing [well] until my mid to late teens, and that was almost by accident. I started out playing piano at three, so the musical talent was always visible, but being a very naïve and innocent I didn't even think about music as a career until the voice spilled out. I certainly made the announcement that I was going to be a star when I was younger, but I didn't exactly map out the plan. I guess I always knew that I couldn't live without pursuing music, I just didn't think about it being the paycheck.
Stoli: People always like to compare musicians to other musicians. What comparisons do you like and what do you not like so much?
Kelly: That's difficult; I think it's important to compare in a positive light so that the general public can get an idea of who or what you sound like. As competitive as I am as an individual, I don't like negative, competitive comparisons, because I don't really think it helps anyone. At the end of the day it's going to happen anyway, so hopefully you're compared [positively] to someone that helps elevate your own sense of achievement. I am certainly never insulted when someone compares me to one of their favorite artists, even if I personally think I sound nothing like them.
Stoli: What special events or promotions are you planning to have to help promote the new album?
Kelly: The album launch show is at The Cutting Room in New York City on Saturday, June 21, 2008. That in itself is huge — headlining a great venue in New York. We have a great opening act as well, the Chris Mahoney Project, who we are very good friends with so we're really excited about the show. We're in the midst of coordinating our other shows and CD sales events, which we'll post on kellygreene.com once we've ironed out the details.
Stoli: The Internet has allowed independent artists to reach a larger audience than years ago. Are you seeking a major label deal or are you happy with the indie route?
Kelly: Well I certainly would love to have a major label deal and have the marketing power of a corporate giant behind me, but I'm not going to sit around and wait for one. I've spent a long time learning about the business and preparing to do this 100% indie and if that's how it continues on, then I'm fine with that. Being indie and having full control gives you no one to blame but yourself and that makes me work even harder, because I will never have a tougher boss than me.
Stoli: You are very active in the live scene. What is your favorite aspect of playing out live for your fans?
Kelly: Being on stage is electric; I love seeing people connect with the music and hearing them sing along is almost indescribable. It's the most rewarding part of songwriting — sharing something that truly touches someone or puts a smile on their face, even if it's only for those few minutes. So my answer is the fans. Playing live is totally about the fans.
Stoli: What is your most personal song to date and please explain the meaning behind it?
Kelly: My most personal song to date is on the next album. It's a track called "Is It Too Much." This song wrecked me when I wrote it. It took me a while to get it out, because every time I sat down to work on it, I'd get the chorus out and cry for an hour. At first I just thought I was crazy, because I didn't even think the song was about me until I finally finished it. The very basic meaning behind it is realizing that you've lost or are very close to losing someone you love because you didn't speak up and fight for it; ultimately you have to really put yourself out there because you don't know if they're going to give you the chance to make it right. I've performed it at a few of the songwriter circles I've done and you can definitely see the glistening eyes in the audience.
Stoli: You have a very attractive look to you. How important is that to a female singer/songwriter?
Kelly: Thank you very much. It certainly doesn't hurt as much as it helps. Sure, there will always be someone who holds your looks against you no matter what you look like, but I don't think you have to be conventionally beautiful to be an amazing, important songwriter; I believe that your gift will make way for you if you are truly doing what you are great at. That being said, I do think it's important to look your best, whatever that may be for you. I think if you have a great, interesting look, and present yourself well, you don't have to be conventionally perfect to be attractive.
Stoli: My boss told me that you will be advertising the new album in Skope Magazine. As a marketing person what drew you to Skope?
Kelly: Yes, and I'm very excited about it. For my first album, I hired a small PR firm to help out with getting the word out and as they let me know which outlets they were pursuing, I would then check up on each outlet and see what the fit was and how the publication handled itself. With SKOPE, I was impressed with not only the look and feel of the magazine, but the interviews and reviews and the whole vibe overall. It's a magazine I read myself and an outlet that I want to be associated with. Ultimately, it's a magazine that puts indie and major all under one roof and treats them exactly the same. Not too many other magazines out there are going to do that and that's what makes SKOPE stand out.
Stoli: What accomplishment are you most proud of to date as a musician?
Kelly: Wow, there are a bunch of things, but I have to say again that this next album we are releasing is what I'm most proud of to date. A year ago, I would've said the same thing about the first album. The overwhelming sense of accomplishment that hits you when you hold the physical CD package in your hand and see the finished product of all your hard work sitting there in front of you is just amazing. It's so rewarding.
Stoli: What are you looking to convey to your fans and where can people pick up the album upon release?
Kelly: The underlying message of this next album is don't hold back; whether you need to stand up for yourself or put your feelings out there or just get up and go, don't wait for it to happen — be who you are now. That sounds a little deep, doesn't it? Really, I just want everybody to rock out and enjoy themselves [laughs], I mean really — it's rock and roll. The CD and downloads will be available on kellygreene.com and through multiple online outlets like CDBaby, iTunes, MySpace, etc. I think we're currently on 39 sites world wide – to my knowledge. I always list new online outlets on my website as soon as they become available. In retail, most likely some Barnes & Noble stores will carry and the rest is still TBD. Of course the CD is always available at our shows as well.
Stoli: What can we look forward to from Kelly Greene for the rest of 2008 & beyond?
Kelly: For the rest of 2008, live shows in the NY/NJ/PA/CT area at the very least and if all goes well, fans and virgins will hear Kelly Greene in TV/film projects through some of the licensing deals I've received. Beyond 2008? What kind of year would 2009 be without another album in the works? As long as there's a song in me, there will be someone who needs to hear it and I will deliver. So everybody, go to www.kellygreene.com and join the mailing list; we'll keep you posted on everything that's going on. Thanks, Stoli!
Kelly's Album Launch! With special guest opener the Chris Mahoney Project on at 8PM. Come early, you'll love our guest!
Saturday, June 21st, 2008
The Cutting Room
9:00 PM
New York, NY