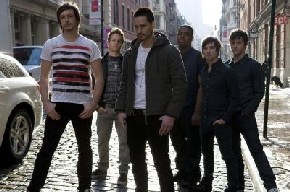 Virgin Records breakthrough band The Last Goodnight has a message they want to share with their second single "Stay Beautiful" and believe it's a message everyone should hear:
"'Stay Beautiful' is a personal song for me because it talks about a beauty that exists within anything, whether it's a woman, a situation, a dream or an idea," lead singer Kurtis John explains.   "But the beauty is anything but superficial; it's real and genuine.   It's not forced, fabricated or contrived. Without the vanity, this world is a beautiful place."
The Last Goodnight is using many platforms outside of their live shows and radio airplay to reach people with their message. They have partnered with buzznet.com, the world's fastest growing social media network, to create "The Stay Beautiful Community."   Members can express what "Stay Beautiful" means to them by posting photos, pictures, poems, songs, messages, etc. at www.buzznet.com/groups/staybeautiful.   Together with fliptrack.com, The Last Goodnight has created a special way for fans to send "Stay Beautiful Mother's Day" wishes with the hit single.     Photo tributes to mothers, expressing just how beautiful they are, can be made by visiting www.fliptrack.com/thelastgoodnight. The Last Goodnight fans have already begun spreading the "Stay Beautiful" message themselves by creating their own "Stay Beautiful" group on the popular social network site Facebook.   Members of the group can post messages to their friends at www.facebook.com/group.php?gid=24918623144.
The group, who have spent much of the last eight months on the road, recently joined The Red Jumpsuit Apparatus and Ne-Yo as the musical talent at Disney's Grad Nite 08′ in Orlando.   They head to California to play a string of headline shows in May (full schedule below). "Stay Beautiful" is currently climbing the charts at Top 40 and Hot AC radio and in rotation on VH1 and MTV Hits.
"Stay Beautiful" is the follow up to the debut single "Pictures of You" off the band's debut album Poison Kiss.   "Pictures of You" has already seen massive success worldwide, reaching top 10 status in the U.S. and climbed all the way to the top of the charts in Australia, where it sat at #1 for four consecutive weeks. The band's album Poison Kiss captures the vagaries of life and love through a kaleidoscope of rock, pop, jazz, folk and soul influences that coalesce in an exquisitely nuanced work that is, by turns, shimmering and shattering led by John's soulful, melodic vocals.
The Last Goodnight is comprised of Kurtis John (lead vocals, piano), Michael Nadeau (lead guitar), Leif Christensen (bass), Anton Yurack (keyboards, harmonica, rhythm guitar), Larone "Skeeter" McMillian (drums) and Ely Rise (keyboards).
www.thelastgoodnight.net or www.myspace.com/thelastgoodnight
West Coast Tour Dates
May 13                                             San Diego, CA                           House of Blues Delta Room
May 14                                             Los Angeles, CA                       Roxy
May 16                                             Reno, NV                                                     Club Undergound
May 17                                             Sacramento, CA                                         Boardwalk
May 18                                             San Francisco, CA                   Golden Gate Park Footstock Fest
May 19                                             Modesto, CA                                               Fat Cat
May 21                                             Fresno, CA                                                 Club Fred
Photo Credit: Michael Scott Slosar