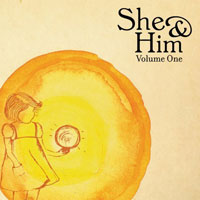 When I first heard that actress Zooey Deschanel was working on a music project, I had a feeling vanity wasn't playing a role in it. If you look at the choices Deschanel has made in her acting career — All The Real Girls, Winter Passing, heck, even her turns in commercial films like Elf or Almost Famous had quirky turns.
She & Him has little to do with vanity, acting instead to introduce a unique, wonderful voice. (Although she has sung occasionally in her movies…)
Deschanel — one half of She & Him with singer-songwriter M. Ward — finds a real home when her songs on the album Volume One hearken to 1970s AM classics. She doesn't try to ape singers like Rita Coolidge or Nicolette Larsen. Instead, she puts herself among them, as if parts of Volume One were a lost classic found on a lazy Saturday in a used vinyl store.
The pairing works when Deschanel's voice is front and center, while Ward plays the part of guitarist/arranger — less so when their two voices come together, as they do on a cover of the Miracles' song "You Really Got A Hold On Me".
Review by Jon Tully
[Rating:3.5/5]
Listen to "Sentimental Heart"
[audio:Volume One_She and Him_1_Sentimental Heart.mp3]