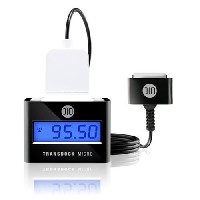 Last week I had decided to head over to Best Buy and purchase a transmitter for my ZUNE in the car. Not really knowing what to purchase I asked for help. I ended up with the DLO Trans Dock Micro for around $80.
When I got home to try it out I was hoping for a lot more. First of all the sound is not clear and it's tough to find an open FM frequency when you are driving. The sound coming from the ZUNE sounds like it's faded away. You can also hear a lot of fuzz throughout the song. I still am yet to find an open station that I can hear the music clear & in digital quality. I was hoping that the sound would be as clear as the ZUNE with my headphones on. The sound I got was not that way at all. It is also very dangerous to play with the radio tuner and the Trans Dock while driving to find an open FM station.
Another annoyance is that when you are searching for a new song to play you get terrible static coming from the car speakers. It was so bad I had to turn the radio off. I did have one song that played pretty well but as we drove around I lost the open station therefore losing the song as well.  
One cool thing about this is that it does charge the ZUNE while it is plugged in the car.
I was going to return this product but I have decided to try it out some more. I really want it to work so I will keep trying. I will say that carmakers need to seriously consider that all new makes & models have a hook up for our ZUNE & I-Pod. I know that some cars do have this already but with the CD becoming obsolete, we as music consumers want to use our music players wherever life takes us.
Review By: Mikey Frieds
[Rating:   1/5]