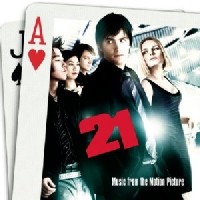 What happens in Vegas… can occasionally end up on a movie screen with a top notch soundtrack full of major label artists.   The Columbia Pictures release 21, and the companion soundtrack on Columbia Records, tells the story of an American Dream occasionally interrupted by greed, gangsters, and a geeks' need to get laid.  
The soundtrack starts off with the track that rolls through the last scene [& credits] to take you back to the feel good ending of the movie.   'Vegas version remixes of all time classics like 'Can't Always Get What You Want" from the Rolling Stones, and several pop culture fads like Rhianna's 'Shut Up and Drive', have this soundtrack pulled straight out of the theater and put onto your stereo.   None of that disappointing soundtrack stuff where the songs have little-to-nothing to do with the movie you just saw.  
All the glamour and excess of Vegas are on full display in this musical trip to the high roller suite.   Running the gamut from feel good friend songs, to ego centric beat bumpers bangin' your eardrums, the soundtrack for 21 has a song on it for everyone.   With songs from the Rolling Stones, LCD Soundsystem, and Pete Bjorn… it may surprise some that the songs 'Giant' by Dave Sardy [feat. Liela Moss] and 'I am The Unknown' by The Aliens steal the spotlight.
Check out the movie 21 starring Kevin Spacey, Laurence Fishburne, Jim Sturgess, and Kate Bosworth in theaters now.  
This hour long, 15-song sound track is a worthy addition to any party album collection.   It's like having a mixed tape without having to spend the time to make it yourself.
Reviewed by: Gary Jacobs
[Rating: 4/5]