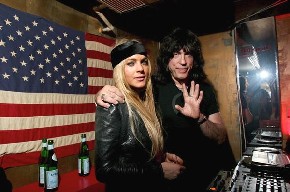 Marky Ramone, the former Ramones drummer and "Rock of Love 2" vixen, Destiney Moore have both teamed up with the Minneapolis, Minnesota-based sex education company Ready Two Go.
Both stepped up to help promote healthy-loving among sexually active youth and young adults. "The world has lost too many people to STDs of all types and that is why I joined up with Ready two Go for my signature series of safer sex tins," states Marky Ramone.
Marky Ramone unveiled a signature series of safer sex kits as a means to reach sexually active youth and adults in a cool, hip way — getting the message out about safer sex practices through the power of music and pop culture.   "We knew we needed a strong voice to help us get the message out about safe sex," explains Brad Hanson, founder and CEO of Ready two Go. "After we had the opportunity to meet with Marky Ramone and truly understand why he wanted to have a safer sex kit, we knew that we all had one common voice — to spread the love and contain STDs."
Destiney Moore is sweeping the nation with her crazy combative antics on Rock of Love 2, but is setting that all aside to help promote safe sex education with her signature series of safer sex kits "The Naughty Haughty" tins. "I lost a friend to HIV, so this is close to me. I want to help educate people of the need to protect," explains Destiney.
Call it a tin. But it's more like a bunker. Ready two Go uses a tin case not only because it's easy on the eyes, but because it can take a wallop and still keep your condoms safe. Each kit contains two Lifestyles ® condoms, lubricant and an STD resource card – packaged inside a discreet metal tin with Marky Ramone emblem printed on the front with a tagline that says "Too Tuff To Break". With every 1,000th purchase of Mary Ramones Safe Sex tin, comes with a chance to win a pair of personally singed Vic Firth Drum Sticks — our way of saying thanks in beating to the drum of safe sex. Destiney's tin is in rocker-chic fashion, pink with black, centered with a winged guitar.
Ready two Go is a mission-based organization built on the single goal of preventing HIV and STDs. Ready two Go has developed a line of stylish and discreet safer sex kits that makes it easy to be safe every time. Each year in the United States there are approximately 19 million new cases of sexually transmitted infections — about half of which occur among youth ages 15-24. (Source: ASHA)
Ready two Go encourages safe fun, but also looks to make a difference n the communities you live in by supporting organizations and events that lead to better awareness and prevention of STDs and HIV.   We should all talk about this and there is only one way to find out…Get in touch with us.