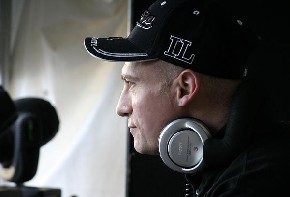 There are few living dance music legends as globally renowned as New York's Danny Tenaglia. With over 30+ years of dancefloor expertise, Danny has carved an indelible mark on electronic dance music both past, present and future.  
 Now starring in his Coachella Valley Music & Arts Festival debut on Sunday, April 27th in the Dance tent, Danny is set to proselytize with his revered collection of music from the annals of dance music's catalog to an all-ages audience for the first time ever in the desert.
 
After a long studio silence, Danny re-emerges with a stunning new single "The Space Dance" on the   legendary Tommy Boy label to commemorate his first-ever, weekly residency at global clubbing institution Space Ibiza beginning in July 2008. His latest production resonates with hooks that sound simultaneously familiar and avant-garde, making "The Space Dance" an instant classic. Look for "The Space Dance" to be this summer's Ibiza anthem.
With a new compilation album on the horizon, Danny will be supporting the release with his first-ever full North American tour in Fall 2008.
Danny Tenaglia single "The Space Dance" to be released on Tommy Boy in May 2008.
Danny Tenaglia album Futurism to be released on Tommy Boy in August 2008. More info to follow.
Danny Tenaglia Tour Dates:
April 25th                   San Francisco, CA @ 1015 www.1015.com
April 27th                   Indio, CA @ Coachella www.coachella.com
May 10th                   New York, NY @ Pacha NYC www.pachanyc.com
May 18th                   Toronto, CANADA @ Circa www.circatoronto.com
May 22nd                   New York, NY @ Cielo www.cieloclub.com
May 24th                   Las Vegas, NV @ The Ultra Pool at MGM Grand www.mgmgrand.com   (DAY)
May 24th                   Las Vegas, NV @ Empire Ballroom www.empireballroom.com (NIGHT)
May 25th                   Denver, CO @ Beta www.betanightclub.com
July 3rd                         Ibiza, SPAIN @ Space Ibiza www.space-ibiza.es | New Weekly Residency Launch Party
July 5th                         Hertfordshire, UK @ Wild In The Country www.renaissance.com
July 10th                     Ibiza, SPAIN @ Space Ibiza www.space-ibiza.es | New Weekly Residency Launch Party
August 2nd               New York, NY @ Pacha NYC www.pachanyc.com | Futurism Album Release Party
August 23rd             London, UK @ SW4 www.southwestfour.com
www.dannytenaglia.com
www.myspace.com/dannytenaglia
www.tommyboy.com