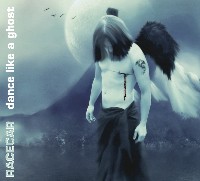 John Hughes, Simon & Garfunkel, and The Raconteurs. You wouldn't expect to find those three names in the same place, a notion that Racecar challenges with the release of Dance Like a Ghost. Laced with experimentation, the album is very much like something the Raconteurs would release if they were more indie and less intense. Which is a good thing, because anyone who channels Jack White's side project is okay in my book.
The album really is decent, with definite standout tracks and a potential for greatness. However, some of the band's techniques stand out as problematic to the nitpicky, mostly dealing with a little bit of overzealous experimentation.
But first, the good. Racecar possesses the ability to tackle different styles, from experimental electronic pieces like "Dance Like a Ghost" to the breezy, stripped-down acoustic tracks like "Man Walking," to the pop rock sounds of "Kisses In the Morning." The latter track, which is the album's opener, is fun and catchy, a great way to grab a listener.
"Man Walking" is reminiscent of Simon & Garfunkel a la "The Sound of Silence." The song is just acoustic guitar and two harmonizing male voices, which is very intimate, honest, and stunning.
For the mediocre: "World that We Live In" sounds like it belongs in a John Hughes film, and I don't know how I feel about that.
And now the bad. "Just This Once" is a beautiful song with an incredible guitar riff in the introduction. But then the song is partially ruined by the inclusion of soft, electronic-fused vocals in the background. It's a distracting addition.
"Dance Like a Ghost" has a similar problem. The singer's voice is backed by electronic sound effects, which makes the song sound less genuine. It's about a spiritual journey, which is somewhat lost behind the technical effects. Also, the lyrics to "Camera Man" are incredibly deep and meaningful, but actually listening to the song takes away from that power. It would work better as an acoustic piano number, but maybe that's just me.
All in all, the album is a good offering. Not the strongest in my collection, but I respect the music's underlying notion of spirituality and a quest for truth. It's very adult. Maybe with Racecar's next album, they can lay off the echoes and synthesizers and allow their unaltered songwriting to blow me away.
Review By: Valerie Williams
[Rating:3.5/5]