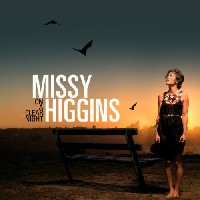 She's been in Rolling Stone…and on the cover, no less. She's been in Interview. Her voice has been heard on Smallville and Grey's Anatomy. And with the infectious melodies on her latest offering, On a Clear Night, Australian singer/songwriter Missy Higgins can be in your head.
Higgins has a knack for songwriting, and her smooth, soothing voice delivers stunning lyrics backed by gorgeous melodies. The songs range from beautiful piano ballads, such as standout "Sugarcane," to the more upbeat, girl rock sounds of "100 Round the Bends" and "Peachy." And don't forget the beautiful, stripped-down "Forgive Me," one of the album's best. In a rare occurrence, all 11 songs on the album are equally good. No "next" button required. In fact, you might find yourself tempted to hit the repeat button…more than once.
In a world of hundreds of guitar-toting, piano-playing singer/songwriters, especially of the female persuasion, what makes Missy Higgins special? Maybe it's that she's Australian. Or maybe it's that, at 24, she possesses wisdom beyond her years, which is showcased in her lyrics. Her words as eloquent, divine, and backed by melodies that remain catchy without having to be dumbed down for the average listener. It's got that breezy, carefree acoustic sound that is perfect for a long summer drive with the windows down.
As a girl folk rock enthusiast, this album earns a special place in my collection. On a Clear Night is pleasing to the ear. In essence, she probably doesn't do anything different than the other artists in her genre, yet something about her songs just pulls you in. On a Clear Night is definitely one of the best albums I've heard this year.
Review By: Valerie Williams
[Rating:5/5]