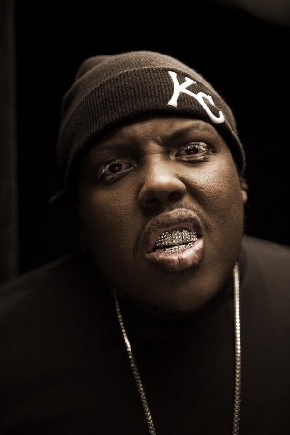 After collaborating on dozens of songs with Tech N9ne and touring the world together, Tech N9ne confidant and collaborator Krizz Kaliko is set to unleash his blockbuster debut album, TECH N9NE Presents: Krizz Kaliko Vitiligo.  
Boasting an innovative music style Krizz Kaliko has dubbed funkra (a mélange of funk, rap, rock, R&B and opera), TECH N9NE Presents: Krizz Kaliko Vitiligo features songs that stimulate the mind, body and soul.
The album title reflects Krizz Kaliko's life with vitiligo, a skin disorder caused by the loss of natural pigment and characterized by smooth, white patches on various parts of the body.   Krizz Kaliko documents his experiences with the disorder on "Anxiety" and the title track.   "It's my life," Krizz Kaliko says.   "When you grow up having vitiligo like me, that's what you're about.   It consumes your whole life.   You're constantly reminded of it every time you look in the mirror, any time you're out in public and everybody's staring at you.   It's descriptive of who I am, and it boosted me to talk more about my life.   Any time I think about that word, it was like another story about my life that I could tell on my album."
Elsewhere on the album, Krizz Kaliko sparks the party with "Do It Like I Do It" and teams with platinum rapper E-40 on "The Bidness."   He also shows off his singing chops on an ode to his wife ("Beautiful You Are") and a cautionary tale ("Slow Down").
In March, Krizz Kaliko embarked upon the Fire And Ice 2008 tour with Tech N9ne and platinum recording artist Paul Wall.   The outing opened March 28 at the Fillmore Auditorium in Denver, Colorado, and concludes May 25 at Rushmore in Rapid City, SD.     Below is the remaining itinerary for the Fire And Ice 2008 Tour.
Wed April 23  Travel Date    
Thu April 24  Columbia  MO  The Blue Note
Fri April 25  Kansas City  MO  Uptown Theater
Sat April 26  Waterloo  IA  McElroy Auditorium
Sun April 27  Des Moines  IA  Val Air
Mon April 28  Brookings  SD  Swiftel Center
Tue April 29  Maplewood  MN  The Myth
Wed April 30  Lincoln  NE  Pershing Auditorium
Thu May 1  Chicago  IL  Congress Theatre
Fri May 2  Detroit  MI  Emerald
Sat May   3  Cleveland  OH  Peabody
Sun May 4  Cleveland  OH  Peabody
Mon May 5  Pittsburgh  PA  Rex Theatre
Tue May 6  Allentown  PA  Crocodile Rock Café
Wed May 7  New York City  NY  Irving Plaza
Thu May 8  Worchester  MA  Palladium
Fri May 9  Providence  RI  Lupo's Heartbreak Hotel
Sat May 10  New Haven  CT  Toad's Place
Sun May 11  Richmond  VA  Toad's Place   Richmond
Mon May 12  Louisville  KY  Headliners
Tue May 13  St. Louis  MO  Pageant
Wed May 14  off  MO  off
Thu May   15  Wichita  KS  Cotillion
Fri May 16  Tulsa  OK  Cains
Sat May 17  Springfield  MO  Remmingtons
Sun May 18  OKC  OK  Diamond Ballroom/DCF
Mon May 19  Travel Date    
Tue May 20  Fargo    ND  The Venue
Wed May 21  Travel    
Thu May 22  Casper  WY  Casper Event Center
Fri May 23  Great Falls  MT  Expo Park Exhibition Hall
Sat May 24  Billings  MT  Shrine Auditorium
Sun May 25  Rapid City  SD  Rushmore