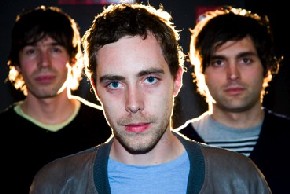 UK darlings South are thrilled to announce a stateside tour in support of their upcoming release, You Are Here. The album is set to hit on April 29th via bluhammock music/Young American Recordings. Following in the wake of some phenomenal shows at this year's SXSW festival, it's pretty clear that South are looking forward to taking the US by storm. You Are Here is the band's most enticing and captivating release to date and their live show is an ecstatic whirlwind of melody sure to excite any and all musical palates.
Known in part for refusing to make the same record twice, it's no surprise that You Are Here is an obvious departure from albums past, lending itself instead to more carefully orchestrated ballads. "It's quite difficult to pin down our style because all of our records have been so different," Joel Cadbury said. "I can't really put it in a nutshell or even in a long winded speech. We make music from the heart, from the soul." This philosophy is what has sustained both South and their fans through all these years. You Are Here is a daring musical adventure that defies all expectations and guides you slowly and cautiously through an aural journey that will remain entrenched in your memory long after the record ends.
Catch them on this tour and be among the first to hear these incredible new songs live!
South US Tour:
4/26 Brooklyn, NY Union Hall
4/27 Hoboken, NJ Maxwells
4/29 New York, NY Mercury Lounge
5/1 Boston, MA Great Scott
5/2 Philadelphia, PA North Star Bar
5/3 Washington, DC Rock & Roll Hotel
5/5 Chicago, IL Abbey Pub
5/6 Miinneapolis, MN Turf Club
5/8 Denver, CO Marquis theater
5/11 Portland, OR Doug Fir Lounge
5/12 Seattle, WA Nectar Lounge
5/14 San Francisco, CA The Independent
5/15 Los Angeles, CA The Echo
"Better Things" VIDEO:
SKOPE IT HERE!