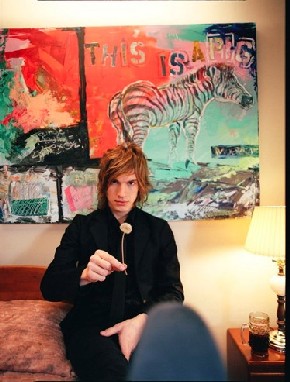 Listeners who have been charmed by Landon Pigg's gorgeous, wistful "Falling In Love At a Coffee Shop"–a track that's exploded since being featured in a late-2007 "A Diamond Is Forever" campaign (it's been downloaded more than 122,000 times on iTunes and streamed more than 321,000 times on MySpace)–might be surprised to learn that the singer-songwriter's first-ever song featured lyrics about the far less sensitive topics of Nintendo 64s and deodorant.
The 24-year-old Nashville native has refined his songwriting technique over the years, but his offbeat aesthetic hasn't been lost in translation.Nashville native Pigg, 24, started penning his own songs in high school, inspired by "crushes that were devastating," and before long he was turning out two EPs (the Magritte-inspired This Is a Pigg and Connect Sets) and working on his first full-length for RCA, 2006's LP.
Pigg cryptically explains that the dozen tracks on LP are "songs that I wrote for my friends that they didn't know I wrote for them." Opener "Can't Let Go," an aching look at a fizzled relationship, recalls Coldplay with its soaring vocals and powerfully strummed guitars. Pigg shows off why his limber tenor has been compared to Thom Yorke's on the somber "Sailed On," a track that soundtracked an intense moment on Grey's Anatomy: "I got to usher somebody on into the afterlife," Pigg explains.
"Coffee Shop"is finally released on disc on Pigg's EP, Coffee Shop, a batch of reworked songs and a new track with what Pigg describes as "cinematic vibes." After touring behind LP for two years and finding new meaning in its songs, Pigg decided to jump back into the studio to strip some of his favorite tunes to their core, focusing on lyrics and melody.
The intimate EP will help fans get a better look into the mind of Pigg and his whimsical ways. Take, for instance, his record collection, which is entirely dependent on the requirements of his Honda (it only plays cassettes). "I kind of depend on chance a little bit. A lot of my music has been thrift store finds, whether it's the Sleepless in Seattle soundtrack or the Smiths," he says, thumbing through a pile of tapes. "I'm a big fan of chance, going where the wind blows me and finding myself. The situations that I can't predict are more fun than the ones I could predict."
AUDIO:
"Falling In Love At A Coffee Shop" by Landon Pigg
SKOPE IT HERE!
Landon Pigg Tour Dates
04/25 – Los Angeles, CA – Hotel Cafe
04/29 – Austin, TX – The Stubbs (small room)
05/01 – West Palm Beach, FL – Sunfest
05/05 – Chicago, IL – Schubas
05/06 – New York, NY – The Living Room
05/08 – Alexandria, VA – The Birchmere
05/09 – Philadelphia, PA – Tin Angel
06/11 – Boston, MA – Club Passim
Official Website:
http://www.landonpigg.com/
MySpace:
http://www.myspace.com/landonpiggmusic