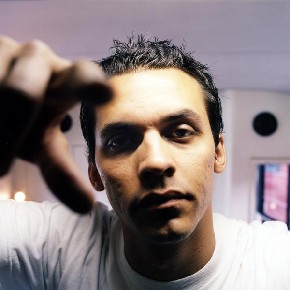 Atmosphere's sixth studio full length When Life Gives You Lemons, You Paint That Shit Gold is in stores today. Atmosphere is booked as MTV's 52/52 ARTIST FOR THE WEEK OF MAY 5th!52/52 is a way for MTV to give unprecedented exposure to unsigned artists, indie bands and established acts on major labels in a completely new and innovative way. MTV handpicks 1 band/artist per week for an entire year and gives them the equivalent of over 11 hrs of on-air promo inventory per week on the channel. Look for Atmosphere performing on Late Night w/Conan O'Brien Weds, May 21st.
Eleven years after becoming the first hip-hop act to put the Twin Cities on the map, Atmosphere has grown into one of the most accomplished MC/producer duos around. Between Slug and Ant, they've released six albums, 11 Sad Clown tour albums and various side-projects like Felt – amounting in well over a million units sold. And along the way have performed to sold-out crowds everywhere from modest sized venues in their hometown to colossal festivals in Japan. Since releasing their 1997 debut, Overcast!, Ant's ASR-born melodic beats and Slug's open book and observational style of rapping continues to evolve into hip-hop that's more honest – more textured. And the praise for these Rhymesayers pioneers hasn't stopped flowing in.
2008 marks an unprecedented year for Rhymesayers and Atmosphere as they prepare for Soundset 2008, the official Midwest Kick-off festival of the summer with eight hours of the best independent Hip Hop music in one day. Soundset 2008 takes place Sunday, May 25th in the Metrodome Parking Lot with Atmosphere headlining amongst many rap notables from the Rhymesayers roster and beyond.
New Atmosphere Videos:
"Shoulda Known":
SKOPE IT HERE!
"Guarantees": SKOPE IT HERE!
Slug Interviewed on IFC's "Lunch Box":
SKOPE IT HERE!
 
Confirmed Tour Dates:
04.22 Chicago, IL The Metro
04.23 Chicago, IL The Metro
04.24 Toronto, ON Opera House
04.26 Boston, MA The Roxy
04.27 New York, NY Webster Hall
04.28 Philadelphia, PA
04.29 Washington, DC 9:30 Club
05.02 Austin, TX Emo's
05.03 Austin, TX Emo's
05.05 Phoenix, AZ Marquis Theater
05.06 Los Angeles, CA Henry Fonda Theatre
05.07 Los Angeles, CA Henry Fonda Theatre
05.08 San Francisco, CA The Regency
05.09 San Francisco, CA The Regency
05.12 Portland, OR Crystal Ballroom
05.13 Seattle, WA Showbox
05.14 Vancouver, BC Commodore Ballroom
05.16 Salt Lake City, UT In The Venue
05.17 Denver, CO Ogden Theatre
05.18 Denver, CO Ogden Theatre
05.25 Minneapolis, MN Metrodome Parking Lot – Soundset 08