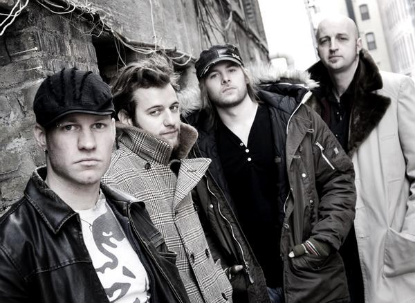 "Jacob Martin is the culmination of what makes people happy, and what they need to hear. People might not know it yet….but they will" – Emmy Boyce-Alternative Addiction.com
Jacob Martin is a four-member pop/rock band based out of the Minneapolis/St Paul area. Led by singer/songwriter Jacob Martin, the group also showcases the talents of Marco Keilholz on guitar and backup vox (graduate of the Berklee College of Music), James Shaff on bass guitar and Jordan Keating on drums.
 
The idea of Jacob Martin started when Jacob, jaded from numerous band break ups, decided to strike out on a solo career. He placed an ad in the Minneapolis City Pages searching for a partner to help with production and writing.   Soon he met Marco, and the two clicked right away.   As with many bands, their early collaborations took place in a basement apartment where they hashed out various demos under the new band name Jacob Martin.  
A part-time gig delivering pizzas turned into a crucial opportunity for the pair, when they were able to slip in a demo disc with an order to a local recording studio.   After listening to the demo, the studio owner called them in and praised Jacob's polished voice and talent for songwriting.   They signed their first production contract and recorded a 5 song EP titled, "Crawling Away."   However, with just a studio drummer and Marco picking up both bass and guitar, they began seeking out more musicians to realize their goals of playing live.
Soon Jacob discovered James Shaff at a local music store, skillfully trying out one of the basses on the floor. Recognizing his notable talent, Jacob approached him, told him of their need for a bass player, and the band was on its way to completion.   The final piece of the puzzle fell into place with Jordan Keating, whose practiced drum stylings added a steady beat to anchor the band.   Now complete, Jacob Martin was ready to rock the socks off the Twin Cities!
After only a short time, Jacob Martin attracted the attention of a booking agency, and began playing gigs throughout the metro area and upper Midwest.   While touring, they blended Jacob's captivating songwriting and soulful voice with intricate guitar melodies and solid rock beats, perfecting their infectious pop/rock sound.
In three short years the band has played hundreds of shows, opened for numerous regional and national acts, and caught the attention of professional producer Paul Peterson (The Corrs, The Time, BB Mack) and producer/engineer team Matt Kirkwold and James Harley of World Record Productions (Quiet Drive, Luck Boys Confusion).
Through these collaborations Jacob Martin recently recorded, "Who The Heck Is Jacob Martin," an EP that clearly demonstrates the heart and soul these four men have poured into their music.
Jacob Martin's songwriting focuses on the positive side of everyday life while maintaining a crisp, inspiring sound.   Songs like, "Until You Do" and "Out Loud" not only rock, but evoke deeper emotions with their captivating lyrics about love and life.
The band looks at each performance as a way to improve and grow, working hard to make the most of their achievements. Jacob Martin is currently submitting their new EP to record labels –   It should not be long till these guys are heard over national airwaves!
Q What sets your group apart from other alternative bands?
JM: I would have to say it's our songwriting. It all comes down to GOOD catchy songs.. It doesn't matter what kind of gimmick a band has or how "cute" the dudes are in the group in the long run. I really think it comes down to one thing that produces success for a band on a larger scale and sells albums it's GOOD songwriting.
Q What do you want people to get from your music?
JM I want people listening to our music to get something positive or perhaps something that lifts them threw a tough time. I believe music is something to lift you up not pull you down! Our music and lyrical content have a more positive side to things…When someone has just worked an eight hour shift for the man and they flip on the radio or put in a cd I think the music should help them celebrate getting the HELL out of work and that's not hearing someone singing about "what a downer life is"….
Do you have a favorite venue where you play?
 
JM: In the Cities.. I think our favorite venue in the cities as of now would have to be a toss up between the Fine Line Music Cafe and Bunkers Music Cafe…These are two venues that have a great set up for live music with a GREAT live sound and an AWESOME energy for rock music.
JM: Out of the Twin Cities…Hands down: Captains Getaway In Okoboji, Ia… We are ROCK STARS there!
Q:I see you have an EP, are there any plans for a CD?
JM Absolutely, I am actually going to lunch today with the producer/engineer that will probably be recording the rest of our album. We have plans to have a full length CD equipped with about 10 or eleven songs in the NEAR future…
Q: What do you want to be doing 5 years from now?
JM:   Playing music. I have been writing, recording, and performing music pretty much my whole life and as cliché as it sounds I and "Jacob Martin" will continue on doing so until we get some sort of break! We are SO blessed to play music as a job right now and that is a beautiful thing but we always have and still look to the larger scale of reaching as many ears possible with "Jacob Martin's"
April 25th @ 331 Club Rochester, MN     9pm
May 23rd   @   Augies Osceola, WI   9:30pm
May 30 @ Windbreak Fargo, ND 9:00pm
May 31 @ Windbreak Fargo, ND 9:00pm
June 1st @ Windbreak Fargo, ND 9:00pm
June 14th The Blue Fox Arden Hills, Mn 9:00pm
June 19th Live @ 5 Concert Series Downtown Minneapolis outside 6:00pm
June 28th Creek side Tav   Hanover, MN 9:00pm
July 16th @ Captains Getaway Okoboji, IA   10:00pm
July 17th Okoboji, IA Captains Getaway Okoboji, IA 10:00pm
 August 6th Brown County Fair
August 9th Famous Daves Hayword, WI