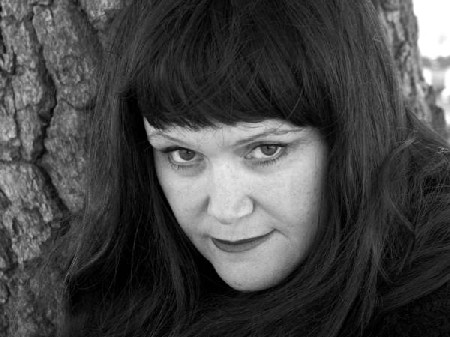 Bloodshot Records is proud to announce the signing of a worldwide, multi-album deal with singer, artist and author Exene Cervenka. Her first album for the label is in the works, and will be released in 2009. Exene will be recording this fall, fans of her mixed-media collages can look forward to new artwork for the CD packaging as well. Label co-owner Nan Warshaw said, "Bloodshot would not exist without the seminal bands, like X and The Knitters, who mix traditional roots into their punk rock.   X was an essential band on the soundtrack to my college years and those albums are still relevant today.   I likely wouldn't have considered working in (the venal snake pit that is) the music business had it not been for women like Exene who first broke that ground.   Exene may commercially be best known for her early work with X, however artistically her music and visual art has continued to grow and develop. We're honored to work with and for Exene."
A true renaissance woman, Exene is a singer, artist and poet whose work traverses virtually every aspect of those disciplines. She is known for her work as singer for the legendary punk band X as well as The Knitters and The Original Sinners. Her spoken word performances with Lydia Lunch in the 80's led to the publication of "Adulterers Anonymous" and another four volumes of poetry followed. In 1992, Exene collaborated with photographer Kenneth Jarecke on "Just Another War", a volume of images and verse concerning the 1991 war in Iraq. A lifelong visual artist, Exene's drawings paintings and collages were exhibited at the Santa Monica Museum of Art in 2006 and were the subject of a monograph, Magical Meteorite Songwriting Device, published by Perceval Press.
As X's anniversary trek, known as The 13 X 31 Anniversary Tour 2008, has been traversing the country; the next leg starts in Detroit on May 15 at the Majestic Theater. X brings Bloodshot Records band the Detroit Cobras in support through June 7th. Dates can be found here: http://www.xtheband.com/showdates.html or http://www.bloodshotrecords.com/tour/
For more information about Exene Cervenka, visit http://www.exenecervenka.com/.