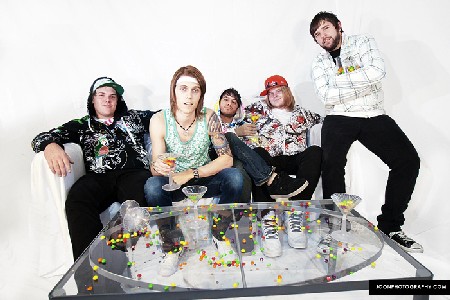 "Houston's Best Band", Thee Armada, kick off their national tour this week with an 80's themed kick-off party at Houston's Fitzgerald's nightclub – a venue they have sold out on previous shows – this Friday, April 18th – after which they will be joined by tour-mates Parade the Day and Carawae.
The group, which signed to Houston-based label Foundation Recordings; the rock division of Latium Entertainment, headed up by Alex Chavez, in September 2007, is routinely selling out shows in their home state and their latest single, Rock, Shock and Load is a favorite at Houston Rockets' and Dallas Stars' home games.
Formed in 2005 by members Bryan Shelton (guitarist) and Brian Smith (drummer), Thee Armada have made quite a name for themselves in their short tenure as a band. The group has already won opening slots on both the Houston leg of the Van's Warped Tour and the Taste of Chaos Tour, having slam dunked at both of Ernie Ball's "Battle of the Bands" contests.
More recently, Rock, Shock and Load was presented to Houston, TX radio station KRBE, who put it into their "New Music Face Off" contest. After dominating the contest five nights in a row against new music from pop staples like Timbaland ft. Fall Out Boy, Britney Spears and One Republic, Rock, Shock and Load was retired and placed in the station's hall of fame. The group was also awarded the title "Houston's Band of the Year" by Houston's Alternative BUZZ, at their recent Texas Buzz Awards.
With Houston and Texas already on lock, and the rest of country laid out before them, Thee Armada means to show the nation's music audiences how they do it "where THEY come from………" The recent addition of their video to MTVU and Music Choice will certainly help.
"Rock, Shock and Load" VIDEO
[youtube mVsIZAzXIXw nolink]