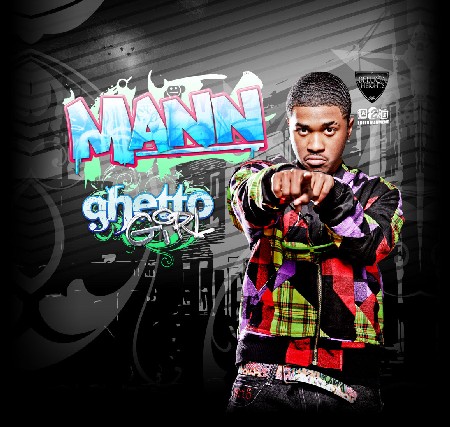 Fun Fact: Before embarking on a music career, Mann appeared alongside Whoopi Goldberg in Ghosts of Mississippi and on an episode of the popular sitcom Married With Children.
Discovered at the Knitting factory in LA, CA by his current manager Jamie Adler; who was there to see another artist, Adler was so impressed with Mann's high-energy performance that he approached Mann and asked him to record some new material specifically for label shopping purposes. So Mann hit the studio and set a popular LA dance-craze to the tune of "Jerkin." Adler brought "Jerkin" to Sean Kingston's manager Steve Lobel, who immediately signed him to his production company a-2-Z Entertainment. Lobel then brought Mann to Sean Kingston's producer and label owner, Jonathan "JR" Rotem (who has previously produced smashes for Sean Kingston, 50 Cent, The Game, Snoop Dogg, Rihanna, Britney Spears, Christina Milan, Mobb Deep, Young Buck, Lil Kim, Busta Rhymes, Trick Daddy, Lil Flip, Talib Kweli, Ashley Tisdale, Jesse McCartney, Rick Ross, Kevin Federline and Lindsay Lohan among others) . JR was so taken by the energy of the dance-infused "Jerkin" that he went in and reproduced the record on the spot. The next day, Mann cut the vocals and began building a musical relationship with JR, that in late December, lead to a full on record deal with his Epic Records-distributed label, Beluga Heights.
While his as-yet-untitled debut album is still being recorded, Mann's already in full swing gathering fans nationwide. His infectious Billy Joel-remake, "Ghetto Girl," featuring label mate Sean Kingston, simultaneously debuted on Los Angeles' Power 106 FM and MTV.com on the same day lighting up request lines and forcing kids everywhere to start hitting up his MySpace page looking to catch a glimpse of Hip-Hop's real voice of the young people.
Describing where he draws his influences from, Mann, says: "LA kids right now are into fun and fashion and having a good time. And that's what I represent. I rep the fly, flashy and fresh dude at school…. who's also smart. The cool kid at school who handles their business, but also has fun. That's the majority of LA that nobody knows about."
DL link to Mann's "Ghetto Girl" f/Sean Kingston produced by JR Rotem:
LISTEN HERE!