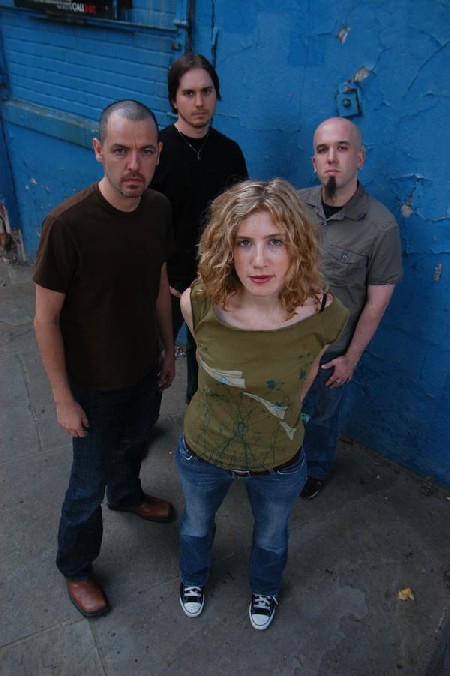 Photo By: Nathan Savage
Last Broadcast Records today is releasing In Flight Radio's new album The Sound Inside.
First single "Red Flags" steaming and downloadable links:
STREAM
LISTEN HERE!
DOWNLOAD
DOWNLOAD HERE!
In Flight Radio created waves with their 2006 self-titled debut – building a dedicated Northeastern US fanbase, and receiving accolades from hometown magazines, including Time Out New York, The Deli Magazine, and Big Takeover. "The thing that we always hear is we've got that big British rock sound, but the female vocal changes it up for everybody," explains the group's Brooklyn-born singer and guitarist, Peira. "I definitely think that helps us stand out." The band's members are undeniably influenced by modern American indie rock, but have an equal fondness for the atmospheric guitar work of British bands such as The Doves and Radiohead.
In September 2007, the quartet entered the studio with Brian Fulk (Rufus and Martha Wainwright, Teddy Thompson) to record their sophmore effort. 'The Sound Inside' (April 15, Last Broadcast Records) was completed by mid-December. The album will be released on April and the group will be hitting the road. "The live show, we tend to rock it out a lot more. We just want to play as much as possible, and get heard — that's the biggest challenge for an indie band. And just have fun too — enjoy it. When you're 90, you want to say you had fun."
In Flight Radio has arrived at a place where they feel they can stay true to their indie-rock roots, while also touching on the shoegazing textures that they grew up listening to. It's a sound that can be felt as well as heard. It truly is The Sound Inside.
In Flight Radio Official Website:
and on MySpace: