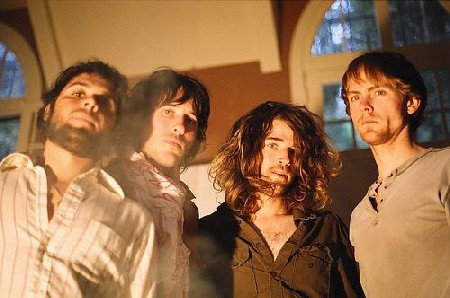 Photo By: Adarsha
The first video from LA's VOXHAUL BROADCAST for their single "Rotten Apples" has been dubbed "a surreal journey in the old west."   Directed by Luke Guidici, the video features David Dennis (vox, guitar) roaming the dusty outback on a coin operated horse.
"I was on that coin horse for like 5 hours," bemoans Dennis.   "That thing was violent… My ass hurt so bad!" The video also features some heavy stunt work by the band in the shape of elaborate falls and drops, some of which led to minor shoulder injuries. "Next video we're going to have stunt doubles… but they're going to be dogs," offers the band.
Check out the video for "Rotten Apples" at:
[myspace 26126789 nolink]
Debut EP Rotten Apples from Voxhaul Broadcast is out April 29th on Retone Records/Fontana.