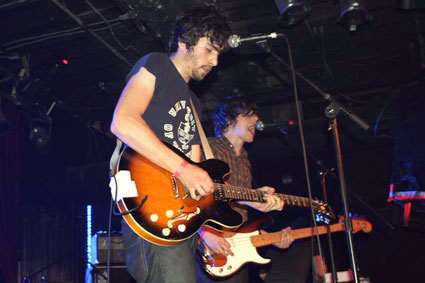 Studio A all ages shows are strange. The Miami club insists on cordoning off the bar from the under age crowd. There are big steel partitions that separate the dance floor from the back bar; corralling minors to the approved space within the club creates a unnatural environment in what is otherwise one of Miami's best live venues. Did something happen involving underage drinking there to warrant management's paranoia?
I would like to see an easing out of this rigid setup because it really detracts from the appeal of this club. If you can't manage your underage crowd in a normal, non-militant way then don't have all ages shows.
Of course that would have meant a much smaller crowd at last week's Tokyo Police Club show. As my friend Nick humorously commented he was by far the baldest person there. He was uneasy about this until he spotted another male as follicle challenged as he is and a wave of relief rushed over him. His observation was accurate; the place was dominated by middle and high school aged music fans. The hipster teens dominated en masse on the dance floor, while the lesser crowd of over 21 year olds hovered around the bar. It wasn't a fight to get a drink so in that way we benefited.
Eagle Seagull opened the night with some flamboyant new wave / indie pop. The band hovered together in a row on stage playing multiple keyboards and singing in unison. They were a very lively and enthusiastic group who created a cacophony of bass, keys, guitar and drums. It certainly was a crowd up on stage with three different keyboards and six band members. Eli Mardock sang with a Robert Smith (The Cure) styled inflection and Carrie Butler added more texture to their sound with her virtuoso violin playing. The Nordic beauty certainly aroused my senses with her musical skills and good looks.
[youtube ZEclY2p_rwg nolink]
Tokyo Police Club came out to thunderous applause and wild jubilation from the young crowd. It was uplifting to see a group of young concertgoers singing along to an under-the-radar indie band instead of the usual mainstream swill that we see most teens flocking to in droves. Cheers to the next wave of discriminating music consumers. TPC is itself a very young band. I would speculate that none of the members of the quartet are over twenty-five. Their sound is clangy and sonic with edgy chords, driving drums beats and synth melodies that collide in a sort of postmodern electro clash. Lead singer Dave Monks has a distinct voice that is youthful and varies in inflection often layered with some sonic distortion. They put on an energetic set and I was pleased to hear a lot of new material off their upcoming LP. The underground hype for these guys has been a groundswell from their previously released EP's specifically A Lesson In Crime. But there wasn't much to go on, that album was only 16 minutes long. This show proves their abilities and I am really looking forward to listening their first full length.
[youtube IyuL9yKMrbg nolink] [youtube nukXssF03iE nolink] [album: http://skopemag.com/images/album/StudioA_040408/]