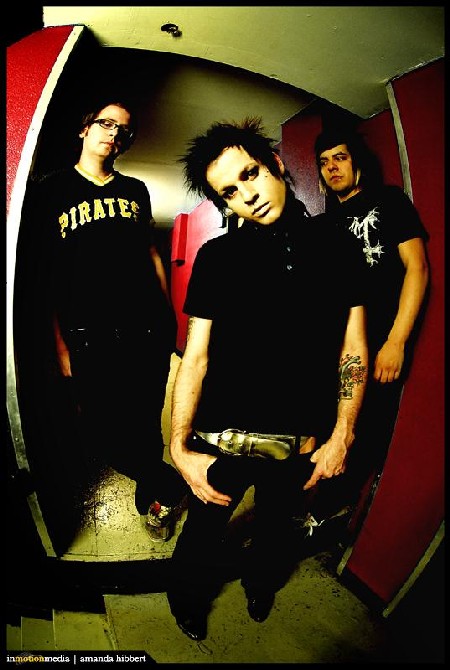 Photo By: Amanda Hibbert
Phoenix-based The Medic Droid bring their fierce energy out of Arizona and across the nation as they tour the US with co-headliners, Vagrant recording artists A Cursive Memory this spring.   The tour is in support of their new album and Modern Art Records debut What's Your Medium, due to hit stores June 10, 2008.  
Chris Donathon (vocals/synths/guitar), Hector Bagnod and Storm Logan (both masters of programming/synths/guitar/lights), create driving, adrenaline pumping beats and synthy, danceable melodies with hotly penetrating vocals that have been radiating from the iPods and laptop speakers of club kids, rocker chicks and ardent indie fans for the past two years.  
As if descendants of Orgy, Depeche Mode, Muse, New Order and Duran Duran, The Medic Droid's feverishly rhythmic sound fills every void in the room and permeates through the veins with lightning intensity.   Without a doubt, this music is meant to be heard at extremely high volumes.   Sitting stationary is not an option.
The Medic Droid's tightly woven mix of techno, power pop and metal is lucid in the fan favorites "Keeping Up With The Joneses" and "FER SURE" which all showcase the band's genuine ability to create music for the masses.
Though they could easily be mistaken for emerging from the NYC or LA based music scenes, what makes The Medic Droid more unique than just their music is their homebase of Phoenix, AZ.   Picture a cityscape with live music pouring out of loft spaces, fire throwers and DJs, galleries filled with the art of visionaries, rabid all-ages shows and streets teeming with 20,000 revelers at any given time. The main purveyor of this flourishing music scene is The Medic Droid's label, Modern Art Records, newly founded by Chronic Future vocalist/guitarist Ben Collins and his wife Anne-Marie Smart with Chronic Future's Barry Collins, Brandon Lee and Mike Busse, in partnership with Epic Records.  
Modern Art Records shines a spotlight on Phoenix's music scene while promising a constant stream of new music, collectors' items and limited releases for insatiable music fans.   Although under the Epic Record's umbrella, Modern Art is a DIY label with an eclectic lineup and a simple albeit grandiose goal — create a musical revolution in their humble Phoenix neighborhood that before long, the world will be unable to ignore.
The Medic Droid's What's Your Medium is set for CD and digital release June 10, 2008.   Please see tour dates below.   For more info, including up-to-date show listings, visit www.myspace.com/themedicdroid.