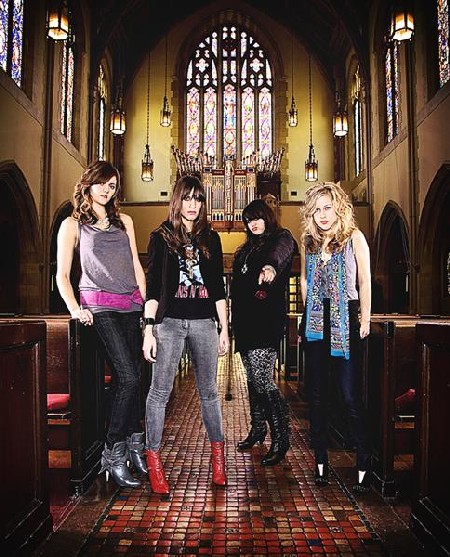 Photo by Casey Curry
Festivities Commence with a Special Performance and Celebration May 9 @ Viper Room, LA With Special Guests Vains of Jenna and Mack Winston and the Reflections
 
Reaching a landmark in rock n' roll history as well as in their own young lives, America's hard rock sweethearts will celebrate 15 kick-ass years together as a band this May, proving their status as an established band who are here to remain.
After forming in 1993 as 13-year-old middle school kids, the same quartet have stuck together, through it all never altering their roster, a feat for even the most steadfast of bands.
Following in the footsteps of historic rock forefathers such as The Rolling Stones, The Police and Metallica, The Donnas aim to continue to rock out as long as time will allow; creating music for the masses, touring the world and performing for their fans well into their old age; while skipping the alternative of fading into the sunset.
The hard work and success that has filled the year leading up to this momentous occasion further demonstrates the fact that these women have paid their dues and deserve the status they have risen to.   After starting their own label (Purple Feather Records), and releasing album number seven (Bitchin') to critical acclaim, The Donnas hit the road.   Starting in the fall of 2007, they headlined full US and European tours to promote Bitchin' followed by a US tour with The Hives, while hitting performances during NYC Fashion Week, the Sundance Film Festival and SXSW along the way.   This May, they kick off an Australian tour to continue the party with their Aussie fans.  
The Quinceañera (meaning "fifteen years") is a celebration of a young girl's coming of age (her 15th birthday) which is commemorated in a unique and different way from her other birthdays.   It is a Hispanic tradition that dates back to the ancient native cultures of Mexico, Central and South America.   Besides referring to the actual festivities, the word is also used to refer to the young woman whose 15th birthday is being celebrated. The closest equivalents to the Quinceañera in the English-speaking world are the sweet sixteen, cotillion, or the debutante ball for those who turn eighteen.  
Bitchin' is in stores and on iTunes NOW!   Celebrate The Donnas' Quinceanera with Brett Anderson (vocals), Maya Ford (bass), Allison Robertson (guitar) and Torry Castellano (drums) May 9 at the Viper Room in Los Angeles.